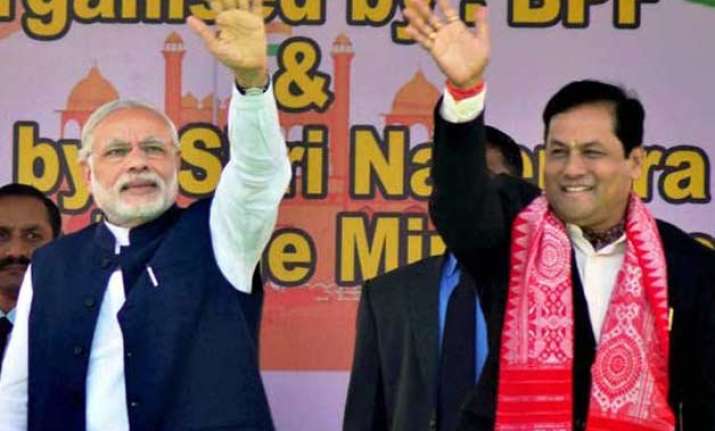 New Delhi: In a significant development ahead of polls, the Bharatiya Janata Party today declared that it will fight the upcoming elections in Assam with Sarbananda Sonowal as the party's face in the north-eastern state.
The decision was arrived at during a meeting of the BJP's Parliamentary Board in New Delhi today which also saw Prime Minister Narendra Modi and party president Amit Shah in attendance. The announcement of the CM candidate well ahead of the Assembly polls is a practice that the BJP has so far avoided.
The party's heavy dependence on central leaders in state assembly polls has often been cited as one of the major reasons why the party suffered heavily in Bihar.
"The party's Parliamentary Board has decided that Assam assembly elections will be contested in the leadership of Sarbananda Sonowal," party leader J P Nadda told reporters after the meeting.
Nadda further said that discussions were held over assembly elections in five states. "But, decision was taken only for Assam," he said.
Sonowal, who currently serves as the Minister of State for Sports and Youth Welfare in the central government, later thanked the party leadership for the opportunity. Sonowal was All Assam Students Union president and AGP leader before joining BJP in 2011.
"I want to thank PM Modi and Amit Shah, I am grateful to them. I believe people of Assam will elect us to power in upcoming Assam assembly elections," he said after being anointed the party's face in the upcoming elections.
Notably, Sonowal was appointed as the president of the BJP's state unit in November last year.  However, he had relinquished the post after being appointed a minister. It was under Sonowal's presidency that the saffron party had won seven of the state's 14 Lok Sabha seats in 2014.
The elections also saw the ruling Congress fall to an all-time low of just three seats.
Soon after the Lok Sabha victory, the BJP had announced its "Mission 84" for Assam, setting a target of winning at least 84 of the 126 assembly seats required for a two-thirds majority.