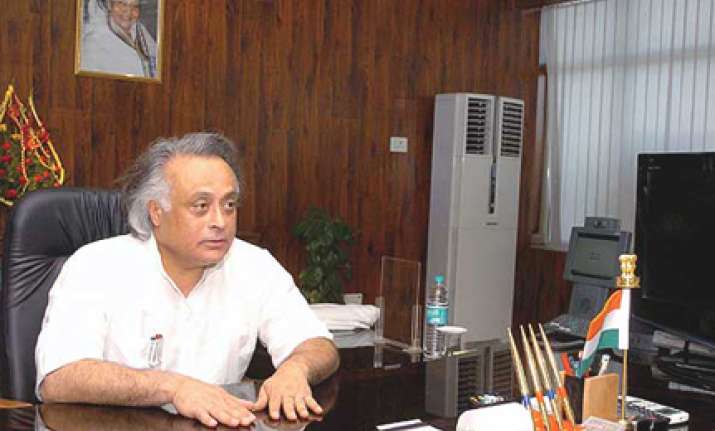 Amid reports that Environment Minister Jairam Ramesh has suggested a "radical change" in India's position on climate change, opposition parties BJP and CPI(M) today questioned whether the government was buckling under the pressure of the US or lobbies but Congress tried to steer clear of the controversy.
Ramesh has reportedly written to Prime Minister Manmohan Singh suggesting that India should junk the Kyoto Protocol, delink itself from G-77, permit external scrutiny of measures it takes to check greenhouse gas emissions besides taking binding cuts in carbon emissions.
This amounts to a major shift in India's position which has maintained that it will not accept any binding cuts in emissions as it will hamper its economic growth.
The Prime Minister's Office has said that Ramesh's letter is only one of the inputs on climate change. 
BJP leader Arun Jaitley condemned Ramesh's reported effort to "alter and change" India's negotiating position on climate change and asked "is the Environment Minister giving his personal views or is he a stalking horse on behalf of a larger lobby? If these are his personal views, can he continue as India's key negotiator on climate change?"
Asking the government to clarify its position in the matter, Jaitley said if the Minister was a "trial balloon" for a larger lobby, the issue assumed "greater seriousness".
CPI(M) Polit Bureau member Brinda Karat also took strong note of the reports, describing it contrary to the government's stand and "more or less reflect the US position."
In a letter to Ramesh, she said "you are proposing unilateral action by India without any linkage with the required cuts in emission by the developed world. This constitutes a reversal of India's declared position thus far."  Brinda demanded that the issues were made public and discussed in Parliament as "this has serious implications for India's negotiating position in the forthcoming Copenhagen Conference."
Congress, on the other hand, sought to steer clear of the controversy, saying clarification, if any, will have to come from the Minister himself or the PMO.
"Let us be very clear. The clarification, if any, has to be given by the honourable Minister or the PMO. This is a matter in which the party did not have consultation. There is no question of commenting on it," party spokesman Abhishek Singhvi told reporters. PTI