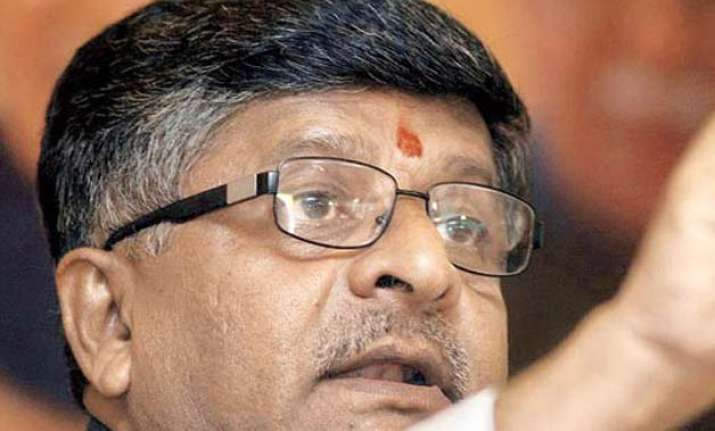 Patna:  The BJP today attacked opposition parties over their comments on the Rs 1.25 lakh crore special package announced by Prime Minister Narendra Modi for the state, accusing them of being "unhappy" with it and maintaining "double standards" in their criticism.
"All people of Bihar are happy about the special package, only three persons, Nitish Kumar, RJD president Lalu Prasad and Congress vice-president Rahul Gandhi are unhappy about it. They should first tell what they have done for the state," Union Communications Minister and senior BJP leader Ravi Shankar Prasad told reporters.
Accusing the three leaders of indulging in negative politics, he said everybody knows what Lalu Prasad has done for the development of Bihar as "his mention revives memories of the fodder scam".
"Rahul Gandhi will speak about special package, but will keep silent on huge scams like 2G and Coalgate, which happened during the UPA regime. Nitish Kumar stands with these two and criticises the package without any basis," he said.
Prasad questioned why Kumar was unhappy and said he should have either "praised the special package or pointed out defects in it," instead of indulging in baseless criticism.
"Kumar publicised that no budgetary provisions have been made for the package. This is completely wrong. He doesn't know that the package was announced by the PM after
due approval of the Finance Ministry," he said.
Prasad said Kumar failed to understand that the projects under the special package would continue till their completion, while the Union budget was just for one year.
The Union Minister accused the Bihar CM of relegating thedevelopment of the state to secondary position and making his "ego" of primary importance.
Singling out Kumar, the BJP leader accused him of using the demand for special status for the last two-three years as just a slogan for politics.
"He says special status is necessary for establishing factories. He should explain why not a single big industry has come to the state during his nine years as chief minister," Prasad said.
Prasad pointed out that 21 districts of Bihar have been declared backward by the Centre and special emphasis would be laid on their development.
The Central Board of Direct Taxes (CBDT) has already decided to give 15 per cent rebate on income tax on investment and capital expenditure in those districts, he said.
Rubbishing the CM's allegations that Modi behaved as if he was auctioning Bihar, Prasad clarified that the Prime Minister was in fact establishing a dialogue with the public in his inimitable style.
"Kumar has nothing left to say, so is making general comments. He could not ensure construction of even a single bridge on the Ganga or construct the Ara-Buxar road," he said.  
The Union Minister said the people of Bihar would ask Kumar on why development fell down in the state after he betrayed NDA and the economic growth rate fell from 15.5 per cent in 2012-13 to 8.8 per cent in 2013-14.
He added that people would also question him on the rise in crime in the state.