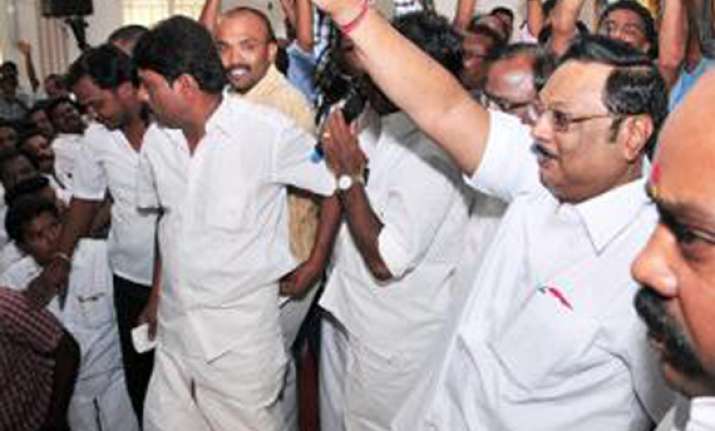 Chennai:The BJP and its five allies in Tamil Nadu hope to reap an unexpected bonus of votes from supporters of sacked DMK leader M.K. Alagiri.
Political leaders under the NDA banner, including MDMK's Vaiko and BJP's H. Raja, have already met Alagiri and sought his support in the Lok Sabha election.
Though Alagiri has not publicly assured them of his support, his supporters are expected to lean towards the BJP-led alliance as they won't vote for the AIADMK or the DMK, a BJP leader told IANS.
"We are confident of around 30,000-40,000 additional votes due to Alagiri's expulsion from the DMK," said the leader requesting anonymity.
The bulk of these votes would come in the southern districts of Tamil Nadu where Alagiri, one of the sons of DMK leader M. Karunanidhi, has held sway for long, the source added.
Alagiri, 63, a former south zone organising secretary of the DMK, was sacked from the party Tuesday for "continuously criticising party leaders and also defaming the party".
After his dismissal, Alagiri told IANS: "I am not the loser. They are the losers."
While DMK leaders are surprised at the number of people gathering at Alagiri's meetings, they downplay the consequences of his sacking.
In the 2001 assembly elections, Alagiri's supporters campaigned against official DMK candidates. Some of his supporters contested under the banner of Alagiri Peravai. They ate into DMK's vote share.
According to Ramu Manivannan, professor of political science in the University of Madras, this election is crucial for the DMK as M.K. Stalin, Karunanidhi's other son, is tipped for the party's top post.
He said the DMK would be happy if it gets even eight seats out of the 35 it is contesting in Tamil Nadu and Puducherry put together. Tamil Nadu has 39 Lok Sabha constituencies and Puducherry one constituency.