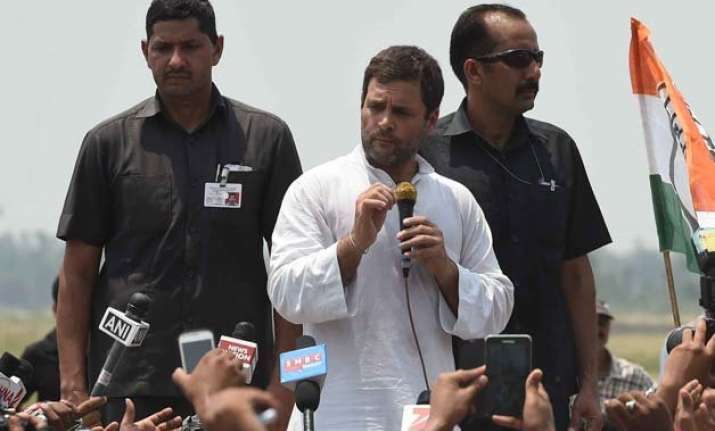 Lucknow: Hitting back at Congress vice-president Rahul Gandhi for accusing the Narendra Modi government of engaging in "politics of revenge" over the cancelling of a mega food park in Amethi, BJP MP Anurag Thakur on Monday said Rahul was "misleading" the people.
Thakur stated that the group, which wanted to make the food park, had opted out of the project in 2012-13 due to non-availability of gas, and Rahul was misleading the people on the issue.
"The person (Rahul), who was in slumber for past five years and is not in the habit of doing his homework, is misleading the people on the food park matter. What was he doing for past few years, when all this happened?" Thakur, presient of Bhartiya Janta Yuva Morcha (BJYM), told PTI over phone from Ayodhya, where he had come to attend a party meet.
On the food park, Rahul, who was on a three-day tour to his constituency Amethi, had earlier said that BJP "wants to hurt me through this politics of revenge. But, in reality the farmers are getting affected, and not me."
However, Thakur said Rahul was doing "cheap politics" and only misleading people against BJP government. He also accused the Congress of spreading lies on the Land Acquisition Bill, and said that farmers would get four-times higher compensation.
"A lie has been spread against Land Acquisition Bill. Congress is saying that every farmer has to give his land despite the fact that only 0.05 per cent land will be required. Also, we have hiked compensation of farmers by four times and making provision of giving jobs," Thakur said.
Stating that Congress has lost its base due to various social security and other schemes launched by the Modi government, Thakur said over 14 crore accounts had been opened under 'Jan Dhan scheme'. Besides this Atal pension and two insurance schemes are being launched to benefit people.
"All these works of BJP government has not gone well with Congress and it is now engaged in spreading canards. It (Congress) cannot see what we have done, but the common man is realising the change," he said.