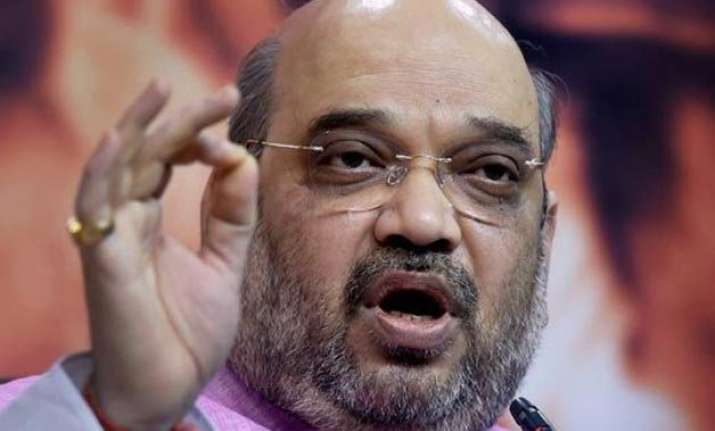 Mumbai: The Bharatiya Janata Party (BJP) was a long-term player and here to stay in politics, right from the panchayat level to parliament, its president, Amit Shah, said here on Thursday.
Addressing the party's third regional 'Maha Sampark Abhiyan' (mass contact campaign) in Mumbai, Shah said that the BJP grew into a big party in the past few months, with more than 11 crore members.
"We are now the ruling party at the centre and this has enhanced the role and responsibility of the party activists...we shall continue to remain in power for a long time to come, right from the panchayats to the Lok Sabha," Shah asserted amidst thunderous applause.
The campaign saw the participation of delegates from Maharashtra, Gujarat, Goa, union territories of Daman and Diu, and Dadra and Nagar Haveli.
Stressing the need to pursue the three-point strategy of 'ideology, policy and principles', Shah said that the BJP activists did not fight elections for winning or losing, but for ideological principles, with the ultimate aim of making India a 'vishwa guru' (world leader).
"It is because of the working on these three ideals that the BJP has been moving from strength to strength compared to 1,600 other political parties in India, tackled the worst of crises without breaking or disintegrating, and rose to be the biggest political party in the world," Shah declared.
He pointed out that a large section of the country's population was BJP's well-wisher and the 'Maha Sampark Abhiyan' was intended to reach out to them.
Accordingly, in the next phase, the party would train around 1.50 million activists for the purpose in the next three months to take it ahead to the next level.
Praising Prime Minister Narendra Modi, Shah said that he had enhanced India's image all over the world and was gaining popularity as the most popular global leader.
BJP vice president Vinay Sahasrabuddhe, Maharashtra BJP president Raosaheb Danve, Chief Minister Devendra Fadnavis, Mumbai BJP president Ashish Shelar and other top central and state party leaders besides hundreds of activists from western India were present at the programme.