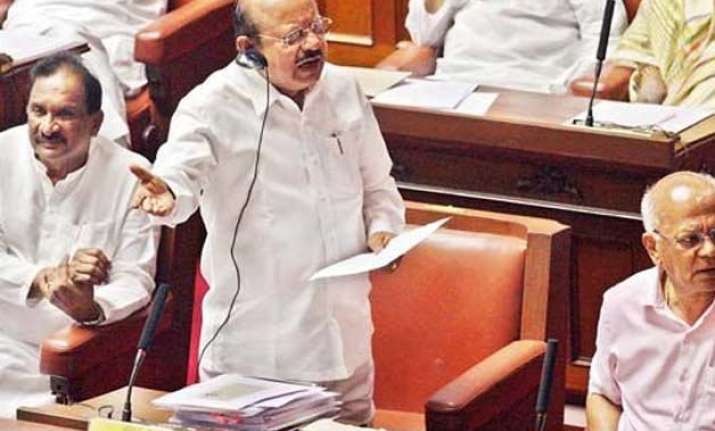 Bengaluru:  The Karnataka government on Friday tabled in the assembly a bill to amend the Karnataka Lokayukta Act, 1984 to curtail the anti-graft body's powers and make the ombudsman's removal easier.
Tabling the bill amid vociferous protests by opposition lawmakers, Law Minister T.B. Jayachnadra said the government had decided to amend the law in light of unforeseen developments in the state lokayukta and public outcry for its ombudsman's removal on acts of omission and commission.
"The bill will be put to vote only after a detailed discussion on its provisions and building a consensus on the Lokayukta's role in fighting corruption and ensuring transparency in governance," he said.
Amendment to the three-decades-old act were necessitated after the opposition BJP and Janata Dal-Secular (JD-S) wrote to Speaker Kagodu Thimmappa for the removal of Lokayukta Justice V. Bhaskar Rao after his son Ashwin Rao's name came up in the Rs.1 crore bribe charge.
As section 6 of the Act does not empower the state government or the legislature to remove the lokayukta and influence it in dealing with graft cases, opposition and ruling Congress members wanted to amend the law for restricting the institution from checking administrative and executive lapses.
The anti-graft body became popular over the years under illustrious ombudsmen like Justice M.N. Venkatachala and Justice N. Santhosh Hegde for conducting surprise raids in hospitals, educational institutions and government offices to trap corrupt officials and expose them.
The amendment bill requires one-third members of the assembly and council to petition their presiding officers for the lokayukta's removal on charges of misconduct.
"The speaker and council chairman will scrutinize the petition and refer it to the chief justice of the Karnataka High Court for inquiring into the charge against the lokayukta and recommending his removal by the state governor through a special resolution in both houses of legislature," it says.