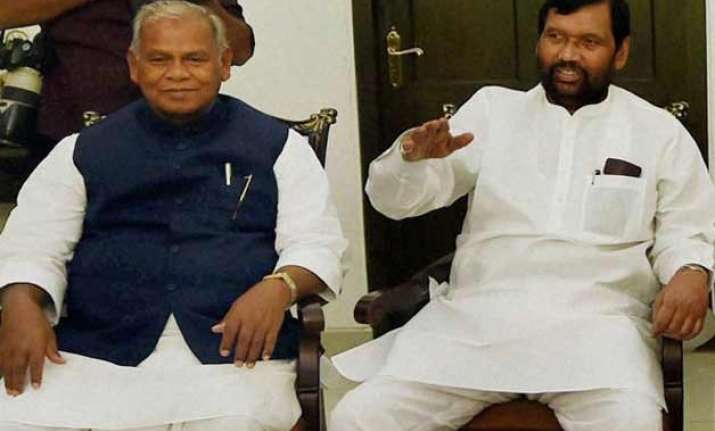 Chakai: The battle for supremacy between two BJP allies as well as rumblings in the grand alliance are at play in many seats as 49 constituencies of the Bihar Assembly go to polls in the first phase of elections tomorrow.
HAM (secular) chief Jitan Ram Manjhi's quest to replace LJP chief Ram Vilas Paswan as the most bankable Dalit leader in the state is playing out in Chakai where sitting MLA Sumit Singh, whose father Narendra Singh is a top HAM leader, is fighting as an independent against official NDA candidate Vijay Singh of LJP.
It was a safe seat for us but now anything can happen, Divesh Singh, a BJP leader, said while campaigning for the LJP candidate.
In a tactical move, RJD has fielded the widow of a BJP leader, a former MLA, from Chakai.
Manjhi factor is also playing out for Bihar LJP chief Pashupati Paras, who is fighting a keen battle to reclaim his bastion of Alauli seat.
Chief Minister Nitish Kumar's shrewd move to hive off a mahadalit category from the Schedules Castes cost Paswan's brother his seat in 2010 and he is depending on Manjhi s appeal among these extreme poor castes to win back their votes.
To underline his growing stature, Manjhi had recently boasted that Paswan requested him to address a public meeting in Alauli by phone as he could not attend it in person.
Such is the sniping among the leaders of two outfits drawing their core support from the 15 per cent Dalit vote bank that when Prime Minister Narendra Modi'ss rally in Makhdumpur, from where Manjhi is contesting, was cancelled, many wondered if the HAM chief was struggling in his own backyard and needed Modi's prop.
HAM soon asserted that Manjhi does not want any big leader from any other party to campaign for him.