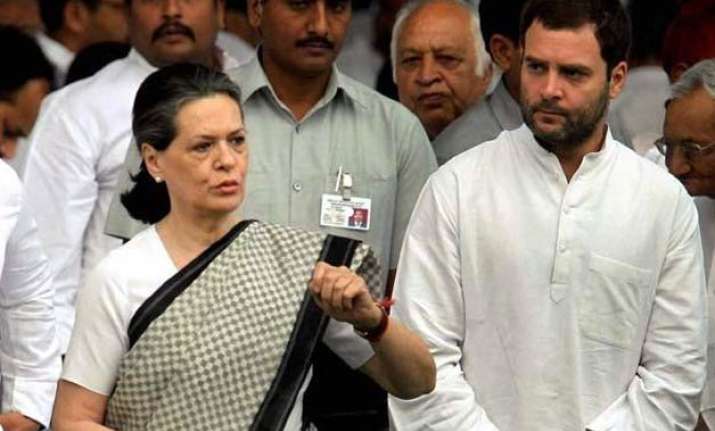 New Delhi: Congress president Sonia Gandhi and party vice-president Rahul Gandhi is unlikely to share the stage with Rashtriya Janata Dal (RJD) chief Lalu Prasad Yadav during ongoing campaign for the Bihar Assembly polls.
A Times of India report stated that the two parties are trying to maintain distance from each other to avoid any controversy.
There is no possibility of Sonia or Rahul sharing stage with Lalu who has been convicted in a fodder scam case, a Congress source was quoted as saying in the report.
It also stated that Lalu too is avoiding sharing dais with Congress leaders who had in past criticized him in public on several occasions.
Bihar Congress president Ashok Chaudhary also said that top leaders of the 'grand alliance' comprising RJD, JD(U) and Congress -- are not likely to share stage in the first and second phase of poll campaign.
Sonia was last seen sharing stage with Lalu and Nitish at the rally of 'grand alliance' in Patna in August.
The three parties are contesting the Bihar polls this time together to take on BJP-led NDA.
On the other hand, Bihar Chief Minister Nitish Kumar, who is also the chief ministerial candidateof the 'grand alliance', maintained that the alliance is intact and the opposition parties are raising this issue for their political mileage.
Meanwhile, Congress leader Rashid Alvi brushed aside rumours that Sonia and Rahul have qualms in sharing the dais with Lalu saying, "This is not true. The RJD have their own public meetings and so do we. If you recall, both Sonia and Rahul had initially shared the dais with the other parties in the 'mahagathbandhan'. Just because they are not spotted together all the time does not mean there is a matter of concern."
Bihar will have five-phase assembly elections between October 12 and November 5 and counting of votes will take place on November 8.