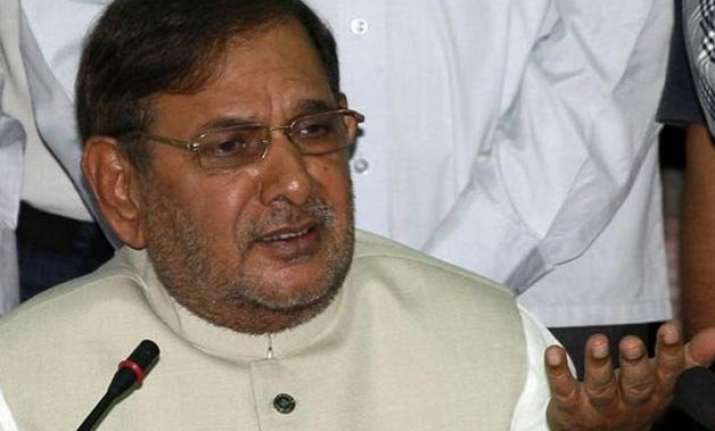 New Delhi: Seeking to shift the blame on Prime Minister Narendra Modi and RSS chief Mohan Bhagwat for raking up caste issue in Bihar polls, JD(U) yesterday said "no one can review and remove" existing reservation policy till the caste system is prevalent in India and dared NDA government to call a special session of Parliament to discuss its eradication.
Party President Sharad Yadav also dismissed BJP's attempts to distance itself from Bhagwat's remarks about review of reservation policy and reminded that the saffron party had taken out 'Kamandal' to oppose 'Mandal' way back in 1990.
"When Mandal report was implemented, the BJP had taken out 'Kamandal'. It had taken up Rathyatra on the Ram Temple issue soon after VP Singh government announced implementation Mandal Commission report providing 27 per cent reservation to OBCs in jobs and education.
"It was nothing but a covert attempt to oppose reservation. Now they are distancing themselves from Bhagwat's remarks due to political reasons but the BJP has track record of opposing reservation," Yadav told a press conference here.
Rejecting the criticism of his ally Lalu Prasad's alleged casteist remarks, he said, it was first Modi who spoke about "Yaduvanshis" at an election rally but no noise was made then.
"It is Bhagwat who talked about reviewing reservation, which even top leaders in top political parties did not thought about in last 68 years. He tried to add fuel to the fire. Not only Bhagwat raised the issue of reservation, even the Prime Minister in his first rally at Muzaffarpur in Bihar on July 25 had said that Yaduvanshis have been given poison in the state by the previous governments.
"He also said that he was a devotee of Lord Krishna and follows the footsteps of Yaduvanshis. But there was no controversy then. Now a controversy is being raised when Lalu talks about Yaduvanshis. It is BJP, which started the caste debate in Bihar polls," the JD(U) chief said.
He insisted that consequent upon implementation of recommendations of Mandal Commission, the issue was "settled since 1991" and there was no need for any one to raise it again and again.
The JD(U) chief insisted that development was the poll issue for his party but evaded a direct reply on whether his party disagrees with what the RJD chief said about Bihar elections being a contest between forward and backward castes. "Lalu said this in context to Bhagwat's remarks," he said.
"If the Centre is serious, they should call the Special Session of Parliament only to discuss the issue of eradication of caste system in India. Till the caste system is prevalent, no one on the earth can remove and review the existing reservation policy in the country," he said.
Yadav termed the issue of reservation a "sensitive matter", and said "there was restlessness among people belonging to the reserved classes" after Bhagwat's utterances and his representatives have to reassure them as disparity will remain as long as caste system remains.
"Caste is a reality. It's a sham to say 'no caste', when tickets are distributed by political parties to ensure representation of particular castes," he said.
Alleging that BJP does not resist from raising settled issue of reservation in the country to provoke the sentiments of the poor people of the country, the JD(U) chief said, "unless the BJP stops debating on reservation policy, other castes would continue their demand and agitate for reservation especially before every election."
Linking the demands for reservation with the problem of unemployment, Yadav hit out at Modi for "not fulfilling" his Lok Sabha polls promise of providing 2 crore jobs to youths annually.
"In the Lok Sabha polls, we were divided, which benefited the BJP. Now we have come together and Modi will have to face a through defeat. Our voters have united this time," he claimed.
Yadav also described as a "very terrible situation" the lynching of a 50-year-old man in Dadri by a mob, allegedly over consumption of beef.
"Such incidents are happening ever since this (NDA) government has come to power. This is a dangerous situation," he said.
Yadav said that Uttar Pradesh was a sensitive state, the Samajwadi Party government should give more attention to such situations to prevent such unfortunate incidents.
"All those who believe in humanity should condemn and act against such incidents," he said.