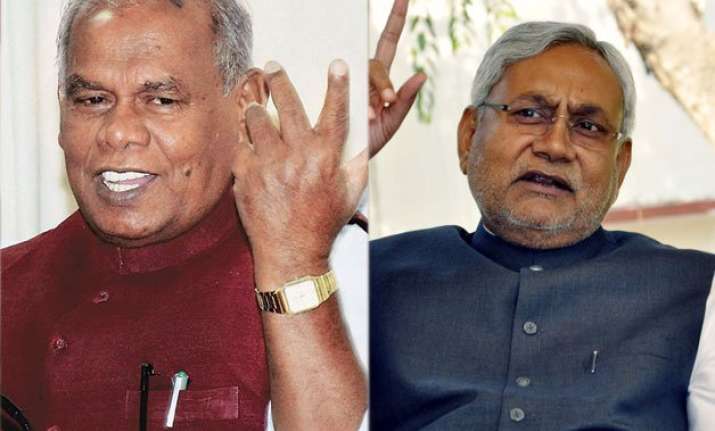 New Delhi: Amid deepening political crisis in Bihar, Janata Dal (U) leader Nitish Kumar on Monday met the state's governor Kesri Nath Tripathi and staked claim to the chief minister's post, parading 130 MLAs from his party, RJD and Congress who support him.
JD(U) President Sharad Yadav and RJD chief Lalu Prasad also accompanied Nitish Kumar to Raj Bhawan.
"We have told the governor that all the MLAs are present here with their identity cards.... We are ready to prove our majority within the deadline the governor decides," Nitish Kumar said.
In total there were 130 MLAs including from JD(U), RJD, Congress, CPI legislators and an Independent MLA, who waited outside the Raj Bhawan shouting slogans in favour of Nitish Kumar and Lalu Prasad.
Earlier today, Chief Minister Jitan Ram Manjhi was expelled from Janata Dal United. Party President Sharad Yadav ordered Manjhi's expulsion for "indulging in anti-party activities" ahead of Nitish Kumar's meeting with the Governor to stake claim to form government.
Article 3 of the JD(U) Constitution gives this special power to the party President under which he can appoint or expel anybody," party general secretary KC Tyagi said at a press conference in Delhi.
JD(U) President called Manjhi a "betrayer" and said that he had left with no other option. "When the history of betrayal will be written, Manjhi's name will be the first in it. He went to the extent of criticising the decision of party president and said that the latter had no power to call the meeting of the legislature party."
JD(U) general secretary KC Tyagi said, "The party has expelled Bihar Chief Minister Jitan Ram Manjhi."
"He made comments that amounted to gross indiscipline against the party president. There was no way left other than to expel him from the party," Tyagi said releasing the expulsion letter.
Accusing the BJP of trying to create a "constitutional crisis" in Bihar, Tyagi said the JD(U) "requests the Bihar Governor to hold a trial of strength in the state Assembly within 48 hours."
The BJP on Sunday virtually put its weight behind Manjhi saying he looks confident of proving his majority.
The saffron party also said that the majority has to be proved on the floor of the Assembly and not in any party's office as it accused Nitish of being "hungry for power".
"We haven't taken any decision yet but we are sure that Jitan Ram Manjhi who is the Chief Minister, according to his statements, is very confident and Nitish Numar's pavilion looks very disappointed," BJP Spokesperson Shahnawaz Hussain said.
Bihar speaker Uday Narayan Chaudhary on Sunday recognised Nitish Kumar as the new JD(U) legislature party leader in place of Manjhi and the party has asked Manjhi to step down.
Initiating the process of government formation under Nitish, state JD(U) president Bashistha Narayan Singh accompanied by RJD, Congress, CPI and an independent MLA visited Raj Bhawan and submitted the letters of support.
Meanwhile, a defiant Jitan Ram Manjhi said Nitish Kumar is not a member of the Bihar Legislative Assembly, and therefore, cannot claim the chief minister's post. The Bihar Chief Minister, who was on Monday expelled from the JD-U for six years, also called for a secret ballot on the floor of the House to elect the next chief minister.
He would only resign if he fails to prove his majority, he had told reporters in Delhi after a meeting with Prime Minister Narendra Modi. "Modi-ji has done some good work for Bihar and we thanked him for that," he said.
JD(U) on Sunday submitted letters of support from the RJD, Congress, CPI and an independent MLA to the Governor claiming that Nitish had the backing of 130 MLAs in a 243-member House.
In the 243-member assembly, JD(U) has 111 MLAs, BJP 87, RJD 24, Congress 5 besides 5 independents, while ten seats are vacant. With the present effective strength of the assembly at 233, the magic figure is 117.
97 out of a total of 111 JD(U) MLAs and 37 out of a total of 41 MLCs had unanimously chosen Kumar their new leader at a meeting convened by JD(U) president Sharad Yadav on Saturday.
Sharad Yadav submitted a letter at Raj Bhawan and said that Jitan Ram Manjhi was asked to resign from his post to clear the decks for Nitish Kumar's election.  
Manjhi enjoys the support of over a dozen JD-U legislators. He is banking on the support of the BJP, which has openly come out in his favour. The BJP has 88 legislators and is supported by three independents.
Manjhi was part of Nitish Kumar government in 2005 as well as in 2010 before taking the mantle from him on May 19 last year after Kumar had resigned following a crushing defeat to his party by Narendra Modi-led BJP in Lok Sabha polls.