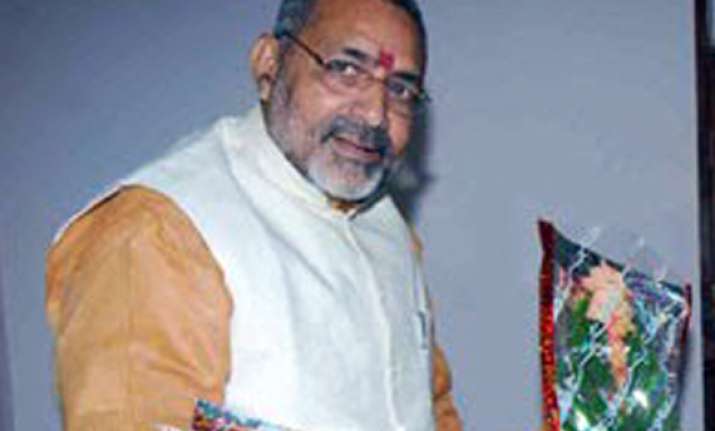 Patna, Jun 23: Apparently left to wage a lonely furrow on behalf of the party, an embattled BJP leader Giriraj Singh has urged RSS to lend support to him on the raging debate over Bihar Chief Minister Nitish Kumar's push for a secular person to be projected as the NDA's prime ministerial candidate.
Singh, the state Animal Husbandry and Fisheries Minister, had last night met RSS's regional pracharak Swant Kumar and the state pracharak Anil Thakur at their office and apprised them about delicate political situation in the state following a war of words between the two parties over the CM's 'secular' barb at BJP and Narendra Modi.  
He also urged the RSS leadership to rally behind him and defend the BJP and Sangh Parivar's ideology.  
Sources said the RSS leadership has convened a meeting with the top state BJP leaders this evening to discuss political situation arising out of the strained ties between the two longstanding NDA allies in the past one week.  
In another development, a senior BJP leader and Road Construction Minister Nand Kishore Yadav met Singh at his residence last night and advised him to adopt a restrained approach in his barbs against the CM and the JD(U), the sources said.
Singh has been the only state BJP leader who has publicly attacked Nitish over his 'secular PM' remarks and question his secular credentials.
He had deliberately stayed away from a recent cabinet meeting apparently to protest against Kumar's indirect barb at his Gujarat counterpart.
The minister has also publicly defended Modi as a secular leader and dared the Chief Minister to sack him if he disapproved of his views.