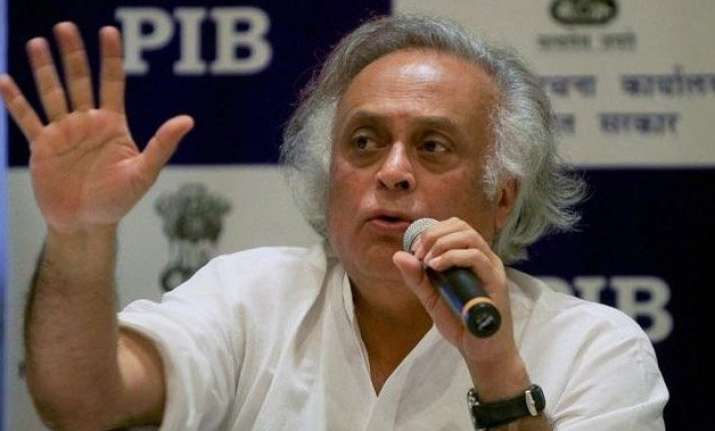 Patna: Senior Congress leader Jairam Ramesh on Friday said the BJP will contest the coming Bihar Assembly elections under the leadership of Prime Minister Narendra Modi and if it wins the state Chief Minister will be "remote-controlled" by him.
"I am not dwelling upon why BJP has not announced its chief ministerial candidate, it is its internal matter. But this is certain that it will contest the Assembly polls under leadership of (Prime Minister Narendra) Modi. In case it comes to power, whoever becomes the chief minister, he will be remote-controlled by Modi, who will be the real CM," the former Union minister said.
Ramesh was talking to reporters after leading a sit-in protest here against Modi's visit to Bihar today.
Modi's development model of Gujarat, which he wishes to impose on the entire country, was a failure and could be seen on the touchstone of social parameters where Bihar was ahead of Gujarat, he said.
A survey was done on children's health in the country conducted by Union Ministry for Women and Child Development and UNICEF between November 2013 and May 2014, Ramesh said.
Over one lakh families and 6,000 Anganwadi centres were surveyed, but the report has not been made public as it painted Gujarat in poor light, he alleged.
Ramesh, a Rajya Sabha member from Andhra Pradesh, said he got a draft report of the survey which depicts Gujarat behind Bihar in immunisation of children below seven years against seven deadly diseases.
"The national average of immunisation is 65 per cent, while for Bihar it is 60 per cent. Gujarat, with 56 per cent is at 21st position among 30 states. Modi was chief minister there for 12 years and BJP people keep talking about 'vibrant Gujarat' and 'golden Gujarat', but see the results. Bihar is ahead of it at 18th position in the country," he said.
On malnutrition among children below five years, the Congress leader said the survey reveals that there was not much difference between Bihar and Gujarat.
"Tomorrow when Modi comes to Bihar and makes big announcements, Congress will ask him what development he brought to his own state," he added.
Ramesh also accused that the Centre was not making public caste census figures despite it was completed in January 2014.
He also pointed out that Modi earlier vehemently opposed GST Bill when he was Gujarat CM, but did a volte face after becoming the Prime Minister.
Ramesh said top Congress leaders Pawan Bansal, Ashwini Kumar, Ashok Chavan and Shahshi Tharoor resigned from their positions just on accusations despite the fact that no FIR was lodged, but Modi is silent when External Affairs Minister Sushma Swaraj, Chief Ministers Vasundhara Raje, Shivraj Singh Chauhan, Raman Singh, and Maharashtra minister Pankaja Munde have got embroiled in scams.
He also hit out at BJP president Amit Shah for denying any promise made on bringing back black money stashed in other countries and distributing it among the public.
It was "typical of BJP" to renege on its promises, Ramesh said.