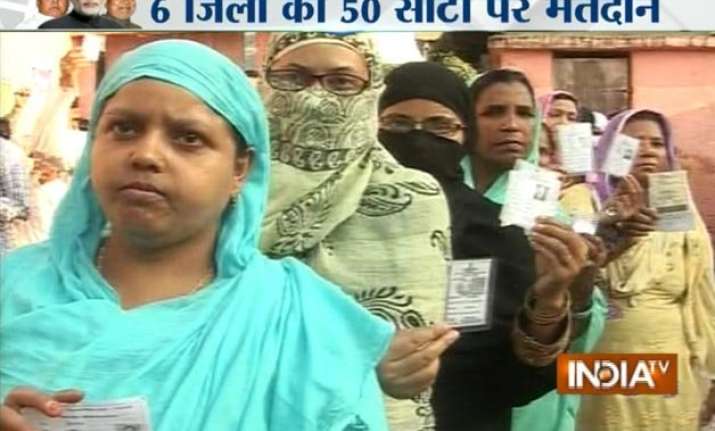 Patna: Women outnumbered men as an estimated 53.32 per cent voter turnout was recorded in 50 assembly constituencies spread across six districts of Biharwhich went to the polls in the third phase today.
Chief Electoral Officer Ajay V Nayak told reporters that Buxar recorded maximum 56.58 per cent voter turnout, while Patna saw minimum 51.82 per cent voting.
Continuing with the earlier pattern, women outnumbered men in exercising franchise. While women voter turnout in today's polling was 54 per cent it was 52.50 for men, he said.
Nayak said 59 persons were arrested during the day. Besides, 38 motorcycles, two country-made pistols and six cartridges were seized by the security personnel. Voting was, however, peaceful.
He said a 123-year old lady cast vote on booth number 101 in Taraiya Assembly seat in Saran district. Today's polling percentage was nearly three per cent more than the total voting percentage in the 2010 state assembly poll but is less than the first two phases of balloting.
The first phase of polling on October 12 witnessed 57 per cent voters turnout and 54.5 per cent in the second phase on October 16.
Giving details, the CEO said Saran recorded 52.50 per cent turnout, Vaishali 54.82 per cent, Nitish Kumar's home district Nalanda 54.11 per cent, Patna 51.82 per cent, Bhojpur 53.30 per cent and Buxar 56.58 per cent.
Kumar, who cast his vote at a polling booth at Bakhtiyarpur, faced protests from a section of the people agitating over the death of a girl allegdly due to lack of proper medical facility in the area.
Other prominent personalities who exercised their franchise during the day included Governor Ram Nath Kovind and his wife Savita, RJD chief Lalu Prasad, his wife Rabri Devi and son Tejaswi and senior BJP leader Sushil Kumar Modi.
Union minister Ravishankar Prasad arrived at the polling booth on an e-rickshaw with his mother. Union Minister of State Ramkripal Yadav rode a motorcycle to a booth here to cast his vote.
Polling ended at 4 PM in ten constituencies due to security reasons and at 5 PM in the remaining 40.
PTI
Here are the major highlights:
5 pm: 53.32 polling recorded till 5 pm
4 pm: 49.55% polling recorded till 4 pm
3 pm: 45.59% polling recorded till 3 pm
2 pm: 39.85% polling recorded till 2 pm
1pm: 33.88% voting till 1pm in 3rd phase
12:08am: Rajiv Pratap Rudy casts his vote in Chhapra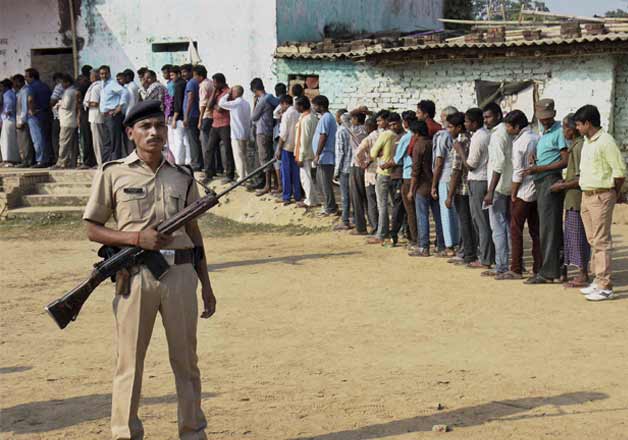 12noon: 26.94% polling recorded
11:10am: People of Bihar desire change, they want to move ahead: Venkaiah Naidu
11am: 20.72% polling recorded
10:30am: Nitish Kumar casts his vote in Bakhtiyarpur
10am: 14.09% polling recorded till 10am
9:30am: Clad in his usual cotton kurta and payjama, Lalu along with his with Rabri Devi, daughter Misa and son Tej Pratap cast their vote at a polling booth in veterinary college under Digha assembly.
9:15am: A monkey bit an old lady voter at Model polling booth No: 2 in Bakhtiyarpur. She cast her vote after receiving first-aid.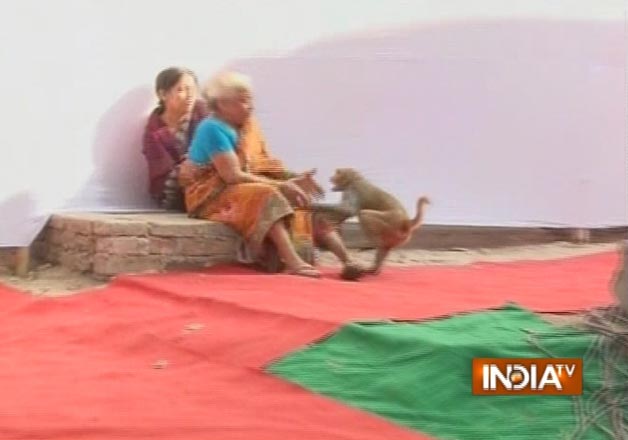 9:00am: 9.12 % polling recorded in first 2 hour
8:40am: Lalu Yadav's son Tejaswi casts his vote in Patna
8:15am: Senior BJP leader Sushil Modi casts his vote in Rajendra Nagar, Patna
8am: 5.59% polling recorded in first hour
7am: Polling began in the third of the five-phase assembly elections in Bihar this morning.