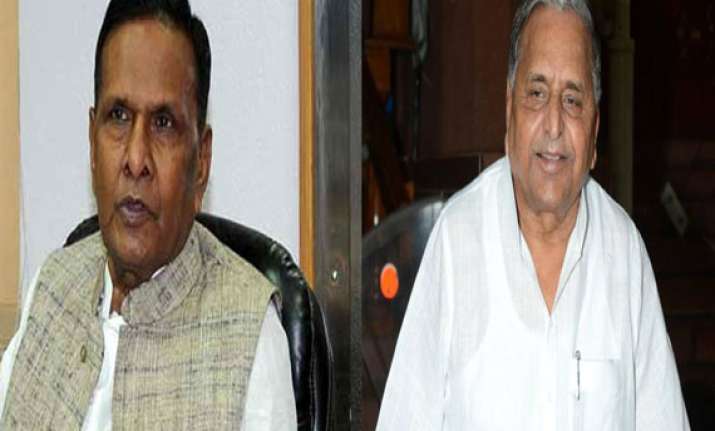 New Delhi: Samajwadi Party supremo Mulayam Singh Yadav and Union minister Beni Prasad Verma may be bitter detractors in public, but have not forgotten their old friendship.
This was evident in the Parliament House today when Verma came to greet Mulayam in the Lok Sabha chambers minutes before the House assembled for the day.
Despite being surrounded by his party colleagues, Yadav promptly reciprocated to his old friend with whom he had formed the Samajwadi Party two decades ago and even tried to stop him by holding on to his arm, but in vain.  Beni, smilingly left after the brief meet to which Yadav remarked in a lighter vein "dekho bhaag gaya" (look, he has run away).
The Union Minister has been attacking Yadav and the Samajwadi Party government in Uttar Pradesh headed by Mulayam's son and Chief Minister Akhilesh Yadav.  Beni had to be reined in by the Congress as SP is an outside ally of the ruling UPA government.  Yadav and Beni, both socialists, had together formed the Samajwadi Party. But the fading clout of Beni over Kurmi voters and the entry of Amar Singh into SP led to increasing differences between them.
Beni later was given a Congress ticket in 2009.