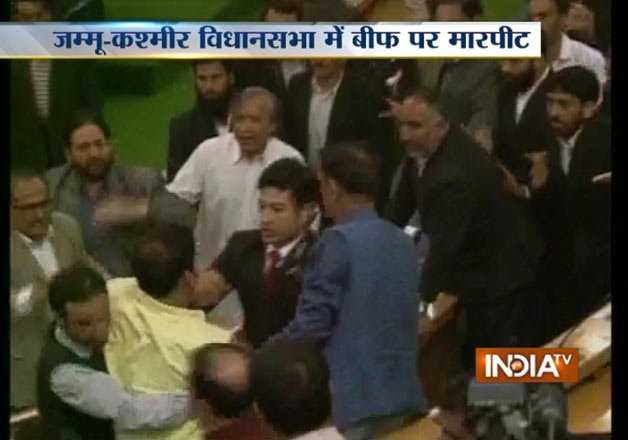 Jammu: BJP MLA Ravinder Raina today beat Independent lawmaker Engineer Rashid in Jammu and Kashmir Assembly for hosting a beef party at MLA hostel on Wednesday.
Speaking to India TV, Ravinder Raina said, I have earlier requested them  not to organise such parties as cow is considered scared in our religion and consuming beef is banned in the state.
As BJP MLAs assaulted him, several NC and Congress MLAs rushed to save him. Following  the incident, National Conference staged a walk out of J&K Assembly.
The legislator from Langate hosted the party in the lawns of MLA hostel here, with the guests being served beef kebabs, 'ristas' (meat balls) and beef patties. Rashid claimed that he did not want to offend anyone but wanted to send a message that "no courts or legislature can prevent the people from eating what they want".
"Nobody on earth, no assembly, no court and no institution can stop us from having what we want to have," he added. The beef row erupted after a division bench of High Court in Jammu directed the state to strictly implement the ban in the state as per the law.
The order evoked strong resentment from various quarters with many separatist and religious organisations terming it as "interference in religious affairs" and sought revocation of the law, besides pressing for implementation of ban on liquor in the state. The issue is now before the Supreme Court.