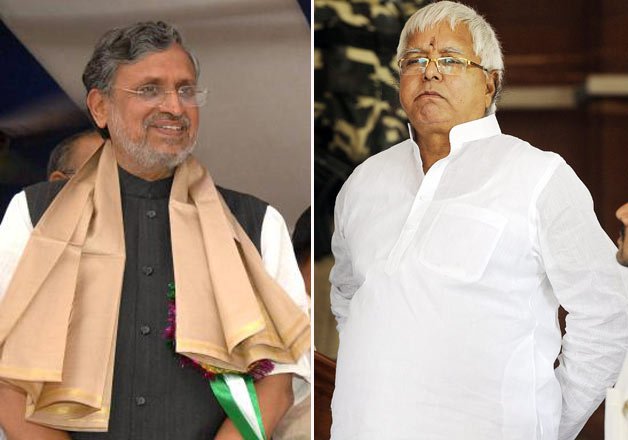 New Delhi: It seems 'beef' controversy has overshadowed all other poll issues including the much-touted 'development' plank in Bihar.
First, it was Lalu Prasad who created a controversy by saying that BJP was unnecessarily raking up 'beef' issue as even Hindus ate cow meat. He had to retract his words after he realised that BJP could use his remarks as a weapon against the grand-alliance in the upcoming Assembly elections.
But the BJP, nevertheless, has decided to electorally encash the resentment generated over Lalu's statement.
Former Deputy Chief Minister and senior BJP leader Sushil Kumar Modi today asked the voters of Bihar  to choose between those who eat beef and those who want to stop the cow slaughter. He also promised to ban cow slaughter in the state if the BJP comes to power in Bihar.
"If BJP comes to power, we will stop cow slaughter in the state. There is one person who says Hindus eat beef (Lalu Yadav) and our party wants to protect cows. People of Bihar have to choose between those two," Sushil Modi said.
The beef controversy erupted  after a man in Uttar Pradesh's Dadri, barely 50 kilometres from National Capital, was lynched over a rumour that he slaughtered a cow and stored its meat.
While commenting on Dadri lynching, Rashtriya Janat Dal supremo Lalu Prasad Yadav had said on Saturday that even some Hindus used to eat beef.
Portraying Lalu's statement as an offending remark for all Hindus, BJP decided to make it a poll issue with Sushil Kumar Modi tweeting earlier in the day, "We will ban cow slaughter if the BJP-led NDA forms the government."
Sushil Modi also underlined the steps Prime Minister Narendra Modi's government at centre has taken to stop cow slaughter. He said that the government has stopped smuggling of cows to Bangladesh during its one and half year of rule.
Recounting his achievement as the animal husbandry minister of Bihar, Sushil Modi said that he had stopped the sale of cattle to Assam from Bihar. He said, "Before I became the minister in Bihar, cattle were taken to Assam from Sonapur mela. I stopped it completely during my tenure."