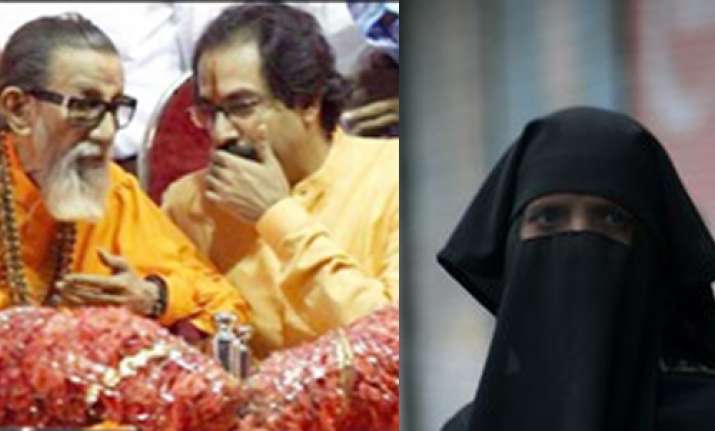 As the hysteria against  Islamic veil (burqa) sweeps Europe, Shiv Sena jumped on to the bandwagon on Tuesday after it was reported that a burqa-clad woman stole a baby from a civic hospital, reports MidDay.
Shiv Sena, already in the eye of a storm after forcing Mumbai University to drop Canada-based writer, Rohinton Mistry's acclaimed book, opened yet another front on Tuesday after calling for a ban on the burqa (veil) worn by Muslim women.
"If the burqa is to be used to steal children, then we demand that it be banned as per law," an editorial in the Shiv Sena mouthpiece, Saamna said.
Recently, a burqa clad woman had stolen a two-month-old child from a municipal hospital in Mumbai.
Appreciating France over its decision to ban the burqa, the editorial hailed French president Nicolas Sarkozy for a revolutionary step.
"When the burqa was banned in Turkey by Kemal Pasha, Islam did not come in between. Why only is it so in India?" Saamna asked.
The Saamna catalyst seems to be a recent case of a two-month-old infant stolen from VN Desai Municipal Hospital in Santacruz (East) on October 15, on Friday. A lady had taken her twins, a girl and a boy, for immunisation to the hospital.
According to reports, a burqa-clad woman started chatting with the mother-in-law. She misled the mother-in-law into handing over the boy to her and disappeared.
Hospital authorities have reported to have said that it is impossible for them to have monitored such a situation. They also suspected that the burqa-clad woman was aware of the CCTVs. That is why she did not lift her veil.
Recently, France's Senate approved a ban on the full Islamic veil. 
Burqa hysteria is sweeping Europe and the burqa has become a political battlefield with debates cleaving people and politicians using the piece of cloth as a dais from which to score points, polarise, pander or simply spout platitudes.
While some politicians call for the burqa to be banned saying it is antithetic to equality of the sexes and prevents integration in societies, others claim that anything that obscures the identity of the person in a public place, constitutes a security threat. 
Islamic scholars in India say, banning burqa would be counterproductive. "We live in a pluralistic society where various religions co-exist. Men, women and children have different styles of dressing and these are the strong points that as a country we should value and appreciate. If one tries to regulate the freedom of another individual then nothing is going to change", said a scholar.
One Islamic scholar said, only a few right wing parties are trying to gain popularity by creating a fuss over what Muslim women have been wearing for the past 1,000 years. It is time that right wing parties stop exploiting women's issues to gain vote, he said.
It must be kept in mind that the burqa evolved thousands of years ago in Arabia, as a part of the cultural tradition, he said.