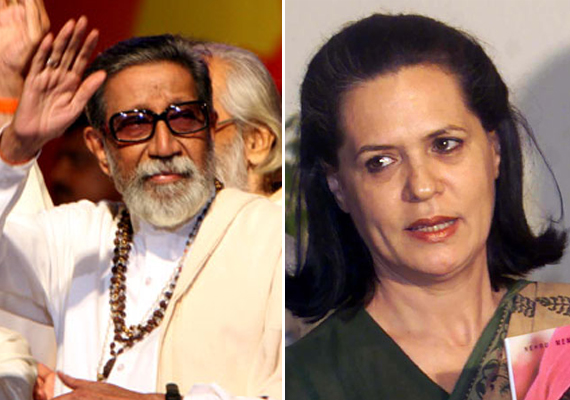 Mumbai, Sep 7: Shiv Sena chief Bal Thackeray Friday targeted Congress president Sonia Gandhi, alleging that the country had gone to the dumps under her leadership.
In a marathon four-part interview, the first installment of which was published in Friday's party mouthpiece Dopaharka Saamna, Thackeray also trained his guns on Congress leader
Rahul Gandhi
and ruling establishments in New Delhi and in Maharashtra.
"Now she wants to make Rahul as the prime minister. Do they think the PM's post is like some chair in Bhendi Bazaar area?" Thackeray said, referring to south Mumbai's most congested wholesale-cum-retail multi-commodities market.
Referring to Sonia Gandhi as part of a "vicious circle", he said the country is gripped by non-governance and bad leadership which has hit the people severely.
"Now, her son wants to become PM. That means, the country will be in a ditch... This is what is called dynasty. People have been imposed on us and we must accept them, whether we like it or not," said Thackerary.
"I have not done such a thing (imposing leaders)," he added, saying that neither his son Uddhav nor grandson Aditya were nominated by him in the Shiv Sena.
The Sena chief commented on how Priyanka Vadra was coming up in politics - "like another Indira Gandhi".
Amid all this, he said, nobody was bothered about the common man who continued to suffer with a leadership vacuum even in Maharashtra.
On the demand for hanging Afzal Guru and Kasab, he reiterated: "It's 11 years now since Afzal Guru was sentenced. Why can't they both be hanged? In the spate of farmers suicides, have we run out of ropes to hang Afzal Guru and Kasab?".
Commenting on last month's violence in Mumbai protesting anti-Muslim agitations in Myanmar and Assam, Thackeray said Assam was full of insurgents from Bangladesh.
"After all, Bangladesh is a severed part of Pakistan, which has been an enemy of India since Partition. It was Indira Gandhi who displayed courage and gave liberation to Bangladesh from Pakistan," Thackeray said.