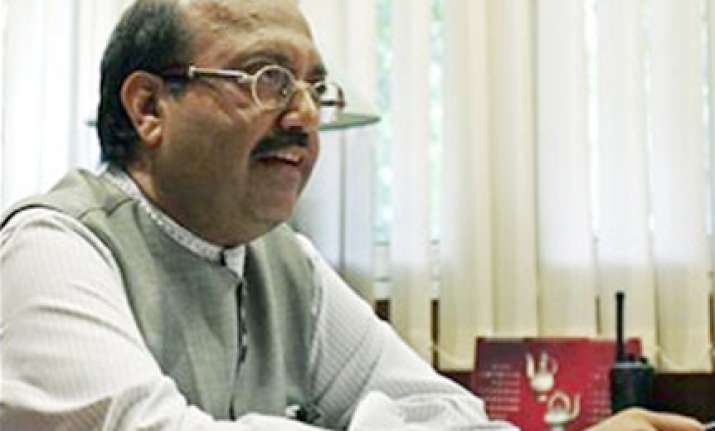 A Delhi Court  on Tuesday issued a bailable warrant against Samajwadi Party leader Amar Singh for failing to appear before it to depose in a two-year-old cheating case instituted by him. 
 Taking a strong view of Singh's non-appearance before the court, Chief Metropolitan Magistrate Kaveri Baweja issued the warrant against him with a bail amount of Rs 10,000 for December 22 after noting that he had earlier also on October 3 and July 13 failed to appear before it for various reasons. 
The court's order came after additional public prosecutor Naveen Kumar submitted that Singh was a complainant in the case and repeatedly failed to appear for recording of his statement.
 "He has made a mockery of criminal justice system by not appearing in the court due to one or the other reasons. Coercive action must be taken against him," Kumar submitted.
 Singh's counsel on Tuesday deposited cost of Rs 5,000 which was imposed on him on February 20 for his non-appearance.
The court had earlier granted him exemptions from personal appearance due to his poor health.  The medical documents in this regard, however, were filed today and those documents bore the date of September 25, a month prior to the date of hearing.  Singh had registered a case against Barun Kumar Verma on June 4, 2007 alleging that he tried to extort money from him in connection with hearing of a case in the Supreme court relating to Samajwadi Party chief Mulayam Singh Yadav.
Singh's counsel submitted before the court that the 53-years-old politician could not appear before it as he was busy campaigning for his party candidate from Firozabad parliamentary constituency in Uttar Pradesh.
Filing a fresh application, he also pleaded for exemption from his personal appearance. 
Meanwhile, Verma through his counsel Anoop Kumar Sharma filed an application in the court requesting it to dismiss the criminal case on the ground that the complainant had failed to appear before it despite several opportunities.
During the proceedings in the case, the court, however, went ahead with the recording of the statements of witnesses Gitanjali, a personal secretary of Singh and Ajay Seth, the then landlord of the accused.  According to the complaint lodged by Singh with the Special Cell of Delhi Police, the accused, posing as a law officer, tried to extort Rs five crore from him in a disproportionate assets case against Yadav. PTI