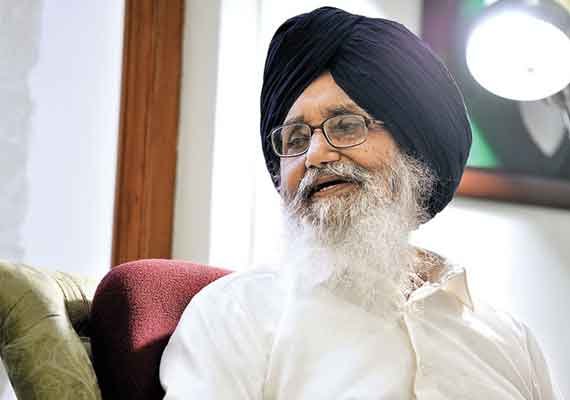 Chandigarh: Punjab Chief Minister Parkash Singh Badal today thanked the Centre and Prime Minister Narendra Modi for deciding to give an additional compensation of Rs five lakh each to the next of kin of 3,325 victims of the 1984 anti-Sikh riots.
Badal described the decision as "a concrete and meaningful step" towards relief for the victims.
In a statement, Badal thanked the Prime Minister in particular for paying immediate attention to the need for applying balm on the lacerated sentiments the Sikh community.
He said the Shiromani Akali Dal, the Shiromani Gurdawra Parbandhak Committee and the SAD-BJP government in Punjab have for decades been pressing for such relief to the hapless victims of the gruesome massacre of thousands of innocent and defenceless Sikhs including elderly Sikh men, women and also children.
"By showing extreme sensitivity to the demands repeatedly raised by us, the Prime Minister has shown how deeply he felt the pain of the Sikh community. As apart of the alliance with the BJP, we are especially thankful to Modi for his singular gesture of compassion and humane concern towards the tragic victims," he said.
Badal also said that the both the SAD-BJP government in Punjab as well as the Shiromani Akali Dal and the SGPC have been seeking justice for the victims and punishment to the guilty.
"As a first step, we have been demanding the setting up of Commission of Inquiry headed a Supreme Court judge to go into the entire gamut of conspiracy behind the execution of this bloody massacre.
"We have also been demanding that the cases that have been closed should be re-opened and thoroughly pursued in the courts. There are cases where no complaints were entertained and no cases were allowed to be registered.
These complaints should now be activised and action be taken on them by registering cases against the guilty," he said, adding, "This is necessary to complete the cycle of justice in the most tragic massacre since Independence".
SAD President and Deputy Chief Minister Sukhbir Singh Badal also welcomed the sympathetic gesture shown by NDA government.