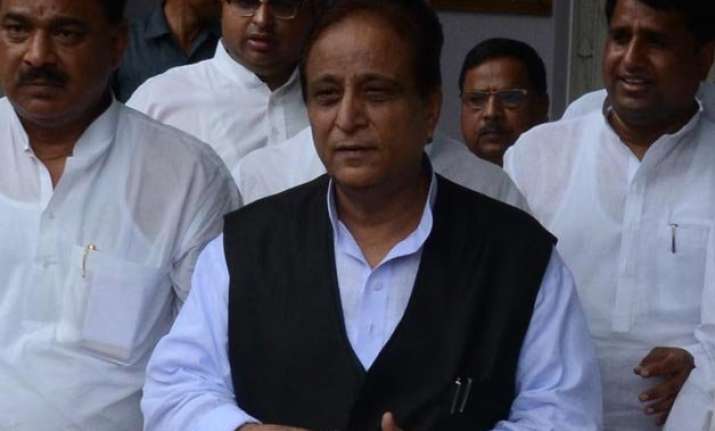 New Delhi: Senior Samajwadi Party leader and Muslim face of the party, Azam Khan, loves to be surrounded by controversies. Whether it is a remark given by him against anyone or someone's reply to him, the political atmosphere is always on its higher level.
Let's take a look at the incidents in the past that involved Khan:
When Azam Khan 'dislike' Facebook posts  
The recent one is related to a class XI student. The boy was arrested and sent to jail for allegedly posting a Facebook comment against Khan. Vicky Khan, a student of Woodrow School in Bareilly district, was booked by the Rampur police, following a complaint by Azam Khan's aide Fasahat Ali Khan on March 15. At present, Vicky is lodged in Rampur district jail. He has been booked under Section 66A of the Information Technology Act and other Sections of IPC. If convicted, Vicky can face a jail term for upto three years.
Few days back, an FIR was lodged against Varanasi tourism officer Ravinder Kumar Mishra for uploading objectionable pictures of Azam Khan and Uttar Pradesh Chief Minister Akhilesh Yadav, Samajwadi Party supremo Mulayam Singh Yadav on social networking sites.
Curious case of Azam Khan's stolen buffaloes
Khan was once in the news for something really trivial and silly. The story was about Khan's missing buffaloes. Senior police officials were pressed into service to locate the minister's missing buffaloes. The buffaloes were recovered after two days. Even, five arrests were made in this connection.
When Dawood, Taliban paid for Mulayam's birthday bash
In November last year, on the occasion of Samajwadi Party chief Mulayam Singh Yadav's 75th birthday, Khan had said that the funding for the event (Mulauam's birthday bash) has come from the Taliban and Dawood Ibrahim.
Azam's love for 'dogs' and Gunda No. 1
Just ahead of the Lok Sabha polls, Khan made personal attack on the then BJP's prime ministerial candidate Narendra Modi. He called Modi a 'big dog'. He was replying to Modi's puupy remark over Gujarat riots. Azam Khan said, "Agar hum chote kutte hain to wo bade kutte hain (if we are puppies, he is a big dog)."
In April last year, Khan while addressing a rally in Masuri said that BJP chief Amit Shah came here (Uttar Pradesh) to create terror and is a 'Gunda no.1'.
Kashmir not a part of India
In 2010, Khan stoked a controversy when he questioned whether Kashmir was part of India. He said that there is only one Muslim minister in the Union Cabinet, headed by former Prime Minister Manmohan Singh. Khan said that the minister is not from this country but from Kashmir. He was referring to Ghulam Nabi Azad, who is a Kashmiri.
Taj Mahal a Waqf board property
He had also kicked up a row after suggesting that the Taj Mahal, the monument of love in Agra, and the income generated through it should be handed over to the Wakf Board contending that the monument is a mausoleum. "Taj Mahal is a mausoleum and each mausoleum is 'Waqf' and comes under the Sunni Central Waqf Board," Khan had said.
Earlier this year, Azam had landed into controversy after making shocking comment on women. He had said that 'female machinery is incapable of producing 10 kids'. "Only way to produce 10 kids id the Islamic way. Marry more than one woman," he had said.
Last year, after BJP leader Amit Shah's controversial statement asking Jatt community to take 'badla' (revenge) of Muzaffarnagar riots by voting, Khan had appealed people to defeat fascist and vote to take 'revenge' of 'murderers of Muzaffarnagar'. He brought the issue of Gujarat riot and alleged that women and children were tortured to death.
In run up to the Lok Sabha polls, Khan categorised soldiers who fought Kargil war in 1999. He had said, "The perks of Kargil were conquered not by Hindu, but Muslim soldiers."