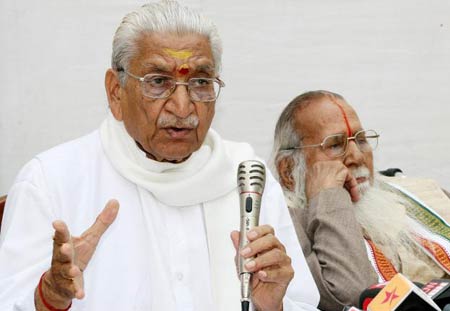 New Delhi, Nov 4: Hitting out at the Congress over its attacks on RSS, the Vishwa Hindu Parishad said the "fabricated allegations" create a doubt on the intentions of Congress chief chief Sonia Gandhi.
"Soniaji is demolishing her own prestige and credibility by trying to demolish the image of patriotism and social service of RSS workers that hold a loving space in the national psyche for decades now.
"It is a pre-meditated conspiracy...Sangh office bearers are being framed and legal proceedings initiated against them by misusing the CBI and other government agencies," VHP President Ashok Singhal said here in a statement.He claimed that by "striking at the roots of Bharatiya culture", Gandhi was attracting suspicion about her "motives and intentions".
During the November 2 AICC session, Finance Minister Pranab Mukherjee piloted an AICC statement that said "recent revelations through detailed investigations have exposed the "true character" of RSS and its sister organisations."The investigations indicate the involvement of its members in terrorist activities."
In her inaugural speech, Gandhi said Congress and the governments led by her party will "forcefully" resist attempts by anyone to abuse religion for political gains.
Singhal claimed that "reminders" by Gandhi during her AICC session speech of the December 6, 1992 incidents which led to the demolition of the disputed structure and "repeated threats of bringing vengeance on Ram devotees create suspicions in the mind of the Hindu society."
About the September 30 Allahabad High Court verdict on Ram Janambhoomi-Babri Masjid title suit, she said it in "no way condones" the demolition of the disputed structure on December 6,1992. PTI