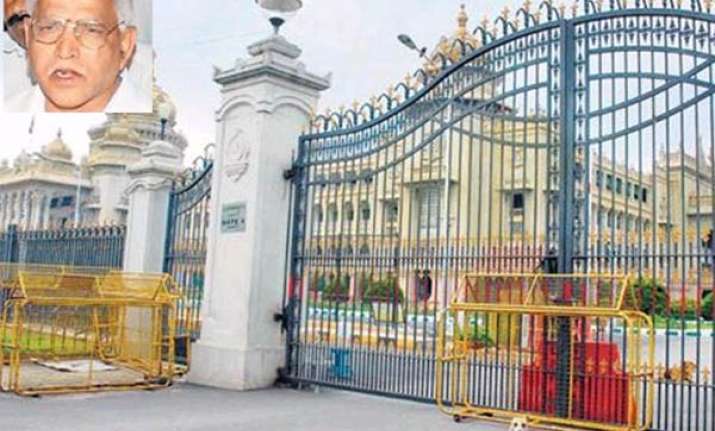 Scared of the ill-effects of Mahalaya Amavasya, the embattled Karnataka chief minister B S Yeddyurappa ordered the gates of Vidhana Soudha, the compex housing the state Assembly closed on Wednesday though it was a working day, forcing the judges of the High Court to take a roundabout route to reach their chambers, reports MidDay.
The report says, Yeddyurappa's family astrologers 'spotted' the ill-effects of Mahalaya Amavasya which they said was compounding the troubles for his government.
The astrologers advised the chief minister to order that the main gates on the eastern side of Vidhana Soudha be kept closed on Wednesday until the Amavasya (New Moon night) was over by midnight. Since the main gates on the eastern side were kept closed on Wednesday, politicians and other visitors had to use the backgates from the western side. On Thursday, all the gates were closed in Vidhana Soudha as it was a holiday on account of Mahalaya amavasya.
A government official working in Vidhana Soudha told MidDay, he could not understand the logic behind closing the gates on Wednesday which was not a holiday.   
ISN Prasad, principal secretary to the chief minister say: "The gates were not closed on astrological advice. There were hectic political developments and we thought traffic through Vidhan Soudha must be restricted."
Meanwhile, priests at the Rahu Temple in Kumbhakonam near Madurai in Tamil Nadu have claimed that their prediction has come true. They complained of incomplete rituals performed by Yeddyurappa there last month, says the MidDay report.
"We had warned that he may lose power if the rituals were not completed", said the priests. "All our fears came true. We are witnessing the crisis exactly on the next Amavasya within a month."
A source close to Yeddyurappa says: "He was aware of the fact  and therefore decided to visit Bhagawathi Temple near Kannoor in Kerala to perform a special Pooja. He visits the temple once every month. He believes the Pooja would ward off evil". 
Chief Minister Yeddyurappa, who called on BJP MLA Shankaralinge Gowda, who had attempted suicide on Thursday said: "Today is an amavasya. I believe all the bad things that we have witnessed are because of that. We must believe in God and pray for the good."
Yeddyurappa spent the entire Thursday in Kerala visiting various temples seeking divine intervention.  This despite senior leaders such as M. Venkaiah Naidu camping in Bangalore to discuss the future course of action.The chief minister performed Pooja after a darshan at the famed Rajarajeswara temple at Taliparamba. He fed bananas to the elephant tethered near the temple.