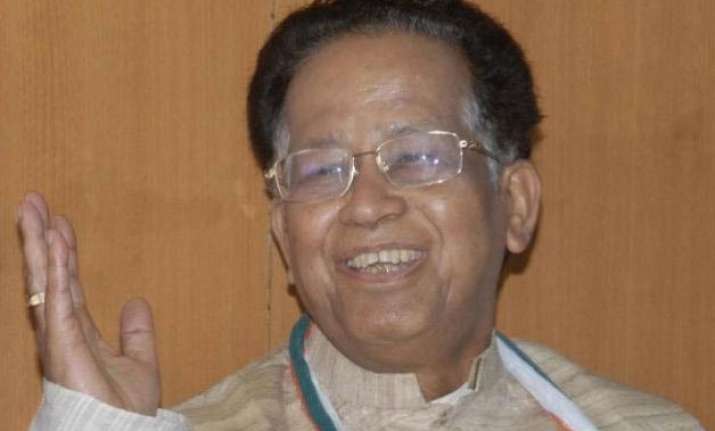 Guwahati: Assam Chief Minister Tarun Gogoi today said his government is drafting a new Land Acquisition Bill for the state as he would not implement the Central Act that was recently amended through an Ordinance.
"We are preparing a new Land Acquisition Bill. I said it earlier also and today I am again saying that we are not going to implement the amended Act by the Centre," Assam Chief Minister Tarun Gogoi told reporters here.
When asked if the Bill will be introduced in the forthcoming Budget session of the state Assembly, Gogoi said "I do not know if we will be ready with the Bill by then or not as the Budget session is in next month. But we'll definitely introduce it in Assam."
On January 9, Gogoi had strongly opposed the Centre's decision to amend the 'Right to Fair Compensation and Transparency in Land Acquisition, Rehabilitation and Resettlement Act, 2013' through an Ordinance and had said his government would not implement it as it was against the interests of farmers.
Gogoi said the NDA government had diluted the clauses related to compensation and rehabilitation of displaced people to the benefit of the "big industries".
"We also need industry in Assam. We are inviting people to invest in the state. But it will not be at the cost of farmers," he added.
Gogoi, along with Congress' state unit president Anjan Dutta, today released a booklet highlighting the BJP-led NDA government's alleged "U-turns" over a number of issues, mainly affecting Assam.
"There is no Achche Din (good days) for people. In fact now they (BJP) are not talking about it anymore. They are making U-turns from their poll promises on every issue. It is now bad days for people," the Chief Minister said.
He gave examples of a range of issues, including illegal Bangladeshi immigrant issue, land swap deal with that country, big dam construction, bringing back black money from foreign destinations, cutting funds for MGNREGA schemes, freezing of government jobs and rising prices of food items.
Gogoi also said that the BJP government at the Centre had either stopped or was altering all welfare schemes initiated by the UPA government.
The Chief Minister criticised the NDA government for not allowing the state to launch the National Food Security Act on the pretext of complete digitisation of data.