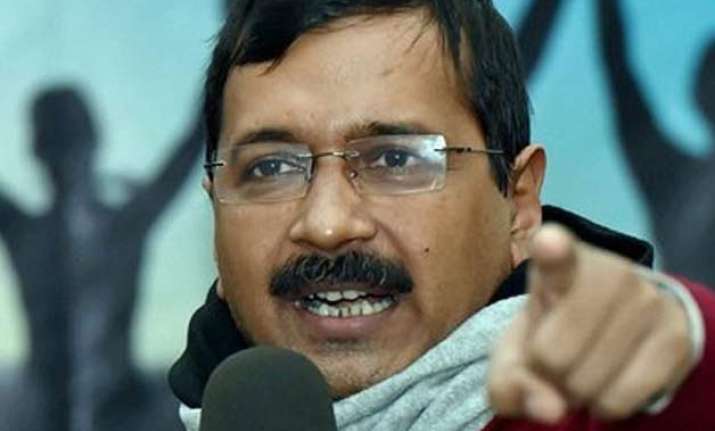 New Delhi: A day after JNUSU president launched a fierce attack on the ruling government after being released from prison, Delhi Chief Minister Arvind Kejriwal today latched on to 'azaadi' -- a slogan that has reverberated since the controversial event on February 9 – to train his guns at the Prime Minister Narendra Modi and the Centre over alleged interference with governance in Delhi.
Kejriwal took to Twitter to slam the Modi government in Kanhaiya's speech-like-post that read, "हम क्या माँगते- आज़ादी LG के हस्तक्षेप से आज़ादी। केंद्र के हस्तक्षेप से आज़ादी। जनता को निर्णय लेने की आज़ादी राजनैतिक अहंकार से आज़ादी"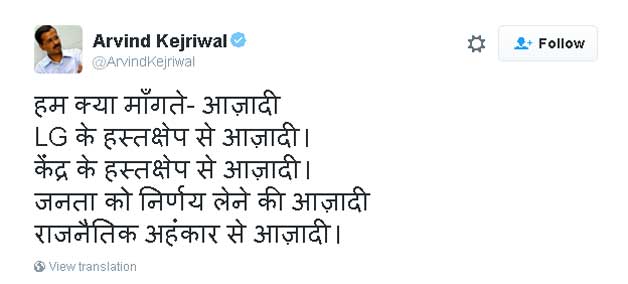 Kumar returned to the university campus yesterday in a festive atmosphere after being released on an interim bail of six months from Tihar jail.
In a fiery speech vowing to continue his fight against social evils, Kanhaiya said reiterated that he had full faith in the Indian constitution and that the 'azaadi' he seeks is within India, not from it. 
Arrested earlier on charges of sedition in relation to an event where alleged anti-India slogans were raised, Kanhaiya was granted interim bail for six months by the Delhi High Court on Wednesday.
Addressing a huge gathering of students upon his return to the JNU campus, Kanhaiya led an aggressive charge on the government and the RSS, saying the attack on JNU in the aftermath of his arrest was planned and intended to distract the nation's attention from core issues.