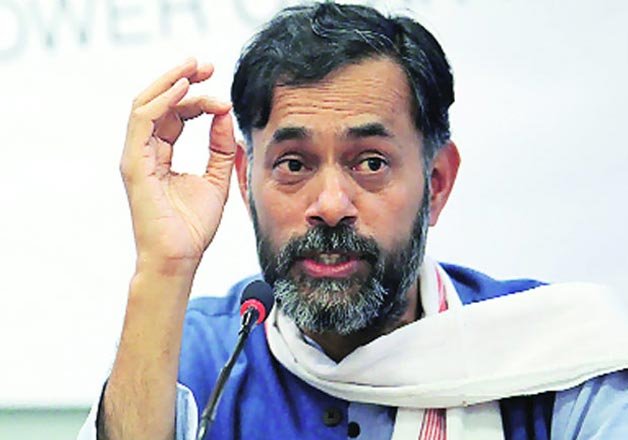 Varanasi: Terming CM-LG confrontation in Delhi as an "ego tussle" and "brinkmanship", expelled AAP leader Yogendra Yadav today hit out Chief Minister Arvind Kejriwal for handling a "genuine" issue in a "very immature" manner.
Yadav, who floated a 'political movement' Swaraj Abhiyan after he was ousted from AAP less than two months ago following a bitter public spat with top leadership, also said they have decided not to form a political party for now.
He said they were not focusing on AAP which was just a "regional party" but his forum was trying to "deepen alternative politics" in the country and it may "intervene" by supporting some candidates in Bihar and other poll bound states.
Yadav, whose outfit is rallying people who "feel cheated" by the developments in AAP, said the attitude adopted by Kejriwal on the issue of powers of Delhi Government will be counterproductive.
"I feel that a very genuine issue is being raised in a very immature manner," Yadav said, without naming Kejriwal. "Delhi should have a full statehood. An elected government of Delhi should be able to appoint and transfer officers like any other elected government. Unfortunately, our Constitution and the law does not permit it right now.
"The transition from where we are and where we should be has to be made with lot of patience, negotiations and tact," he told PTI.
"Unfortunately, what we have witnessed is confrontation, ego tussle, brinkmanship. I fear that this way of handling this kind of genuine issue will be counterproductive," he said.
Asked whether he has any regrets over his ouster, Yadav said that, "It would be silly to say that I have no regrets, It would be stupid to say that I loved being dragged out and it would be foolish to spend rest of my life just regretting that."  
Yadav claimed lakhs of people "who entered politics for the first time in their life feel cheated, dejected" and through Swaraj movement efforts are to bring them together and give them hope once again of alternative politics in the country.
Elaborating on the role of the platform floated by him and another expelled AAP leader Prashant Bhushan, Yadav said "Swaraj Abhiyan is an attempt to deepen alternative politics  and the country but for us politics does not mean fighting elections and elections are not merely a way to somehow form the government".
"As of now we are not a political party so obviously there is no question of contesting Bihar elections as Swaraj Abhiyan."Yadav said, "At the same time because we are a political movement we are committed to intervening in the democratic process.
"The manner in which we can intervene would be by way of creating an alternative agenda, by way of creating public awareness, by way of opposing tainted candidates or by way of exposing unfair practices in elections."  
He said, "In some exceptional cases we may on an experimental basis support some people's candidates who may not be affiliated with any political party."
Yadav stressed that their focus was not Bihar or UP elections and that they were here for a "long term".
"Also we must underline that for us the most important thing is not Bihar or UP elections, we are here for a long term and our focus is on a long term transformation of
politics in the country," he said.
On whether it was prelude to forming a political party, Yadav said, "We openly discussed this question regarding forming of a political party recently, but there was an
overwhelming view that we should not form a political party right now."
 "So what we are doing is to first of all to gather energy. There are lakhs of people who for the first time in their life entered politics, who are feeling cheated and dejected right now. We want to connect to them, we want to bring them into fold, we want to give them hope and that's our main priority," said Yadav.
He said their focus was on creating a "new model of political organisations which are transparent and democratic".
"We have decided that once we can do something about these two-three things then we will sit down after a few months and then review our future course of action," he said.
He also said the outfit is now taking up on priority farmers' issues.
"At the moment, our priority is not to think about election, or forming a party, our only priority is to launch a nationwide movement on the question of farmers, their plight and distress," he said.
Asked about financial support for the Swaraj Abhiyan, Yadav said, "At the moment we have very small expenditure and small donations. We don't even have a bank account till date, and the only way we do it is through donations by volunteers, supporters."
"We make sure all our income and expenditure is declared publicly on website and social media but very soon we would have a bank account and we would collect donations through cheques," he said.   
Seeking donations for the Swaraj Abhiyan, Yadav said, "I am personally convinced that if  you are doing something good in this country, it never stops for want of money. If you are doing something honest, genuine and if you pursue it 'logically' then there are enough like minded persons in the country who would be willing to give money in an open transparent manner."
On donations to AAP reportedly declining after the bitter rift, Yadav said, "We are not really worried about or think about what's happening with the Aam Aadmi Party of Delhi. It's a regional political party and I think they do not have much expenditure right now and frankly it is their headache that I don't have to bother about it."