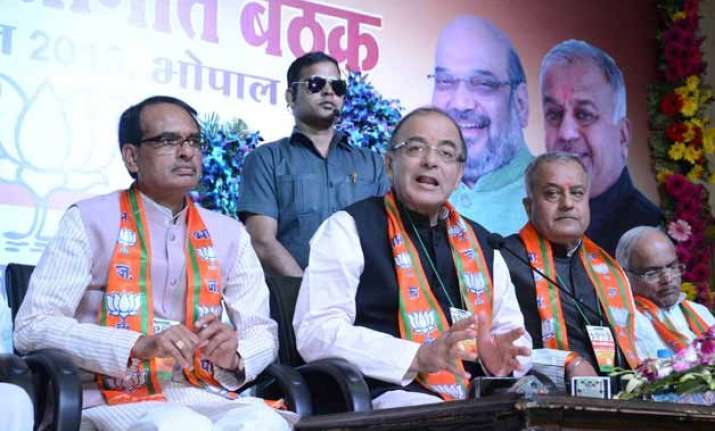 Bhopal: Finance Minister Arun Jaitley on Thursday alleged that the Land Acquisition Law passed in 2013 under the UPA regime was a "conspiracy" to shun rural areas from development and render landless people jobless.
"With an intention to serve their political interests, I can say the 2013 Land Acquisition Law passed during the UPA government tenure was a conspiracy to keep rural areas aloof from development and to keep landless people jobless," Jaitley said while addressing the inaugural session of two-day Madhya Pradesh BJP's State Executive meeting here.
He said in order to ensure development of rural areas and to generate employment for the landless people, the amendment in the bill was necessary.
Jaitley explained at length provisions of the land bill passed by Lok Sabha, after resistance and deliberations, highlighting that unlike the 2013 law, it ensures development of rural infrastructure, housing for poor and landless persons and development of industrial corridors to generate employment for rural people.
The law passed in 2013 had no provisions for military purpose, nuclear energy and for water resources schemes among others, he said.
The Minister said that if the 2013 law is implemented, then schemes like Rural Electrification Scheme and Pradhan Mantri Gramin Sadak Yojna (PMGSY) will have to be closed as there is no provision for acquisition of land for such programmes.
Praising Prime Minister Narendra Modi's leadership, Jaitley said India's stature has risen across the world and relations with neighbours have improved.
Jaitley said that Modi has successfully ended the period
of dynasty politics in the country by winning absolute majority in the General election last year.
Earlier, there were talks that the world's largest democracy (India) was gradually turning into a "dynastic democracy", he said, referring to Congress rule at the Centre, Samajwadi Party in Uttar Pradesh, Rashtriya Janata Dal (RJD) in Bihar among others, without taking name of any party.
On economy, Jaitley said that credit rating agencies have also termed the country's economic growth as 'positive'.
He claimed that the NDA government has successfully put an end to the menace of corruption that was rampant during the UPA rule and cited revenue generated by auctioning of coal mines to prove his claim.
"Even CAG was wrong in calculating the actual loss suffered by the country because of UPA's policies as it was much more than what it had predicted," he said.
Jaitley said now the states will get more money for development.
He also said his ministry has rationalised the tax structure to benefit people so that they get more money in their pockets to spend in the market.