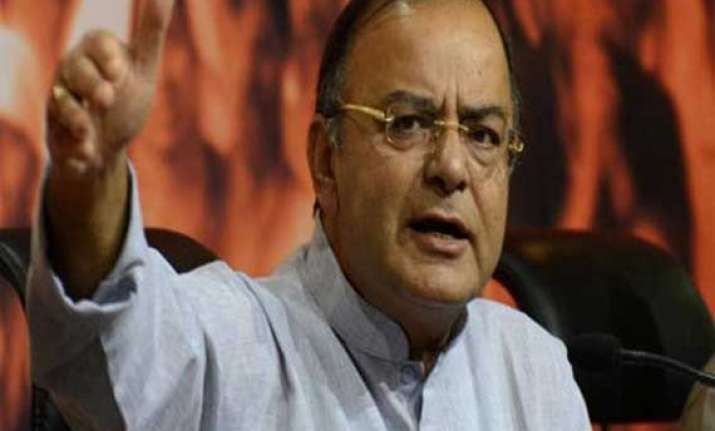 New Delhi: Finance Minister Arun Jaitley blamed the recent hike in rail fares on decisions taken under the previous UPA regime and said that the BJP-led government should be judged from what is presented tomorrow as part of its railway budget.
"The fair hike which has happened is your (UPA's) legacy.  Whether we hike it or not, you will get to know tomorrow," Jaitley said while addressing the Congress benches in Rajya Sabha during a discussion on price rise.  Railways recently implemented a 14.2 per cent hike in passenger fares along with a 6.5 per cent raise in freight charges.
Jaitley said there was a need to understand the situation in which the UPA dispensation had left railways. A major allegation against UPA, Jaitley said, is that it eschewed hard decisions even when those were in the public interest, leading to the present state of affairs.
He said that in February this year, the losses incurred by railways on the basis of passenger fares alone touched Rs 30,000 crore.
Jaitley claimed that as the losses got so inflated by February that they threatened to bring things to a standstill, the then rail minister approached the government with a proposal to hike fares on February 6. And, on February 11, the then Prime Minister agreed to the rise in rail fares, he said.  
"At the Prime Minister's suggestion, it was decided to implement the fare and freight revision with effect from the first week of May, 2014," Jaitley added.  
He said that as there was a feeling the parliamentary polls would be over by May, the proposal that was cleared was for raising the fares only after that exercise.  On May 16, as the results were being announced, Railway Board issued a notification giving effect to the then Prime Minister's direction.
"The fares were implemented. By evening the (then) minister knew that his government was going. At 7 in the evening, having approved the tariff hike in February itself to be given effect in May, the outgoing minister passed another order saying 'what you have done in the afternoon should be rescinded and this matter should be decided by the next minister'," Jaitley said.
The Finance Minister said that the present rail minister Sadananda Gowda was faced with a Hobson's choice.  "Should he (Gowda) allow the railways to continue to bleed and then hide behind some fact and say 'I won't raise the fare' and we reach a situation few months down the road that railways are unable to operate," he said.
He said that the question was whether the new Rail Minister would follow the "weak-kneed" policy of his predecessors that unpopular decisions cannot be taken even if they are in the national interest or if he would take his decision and place the fact before the country that, to run the railways, it was necessary