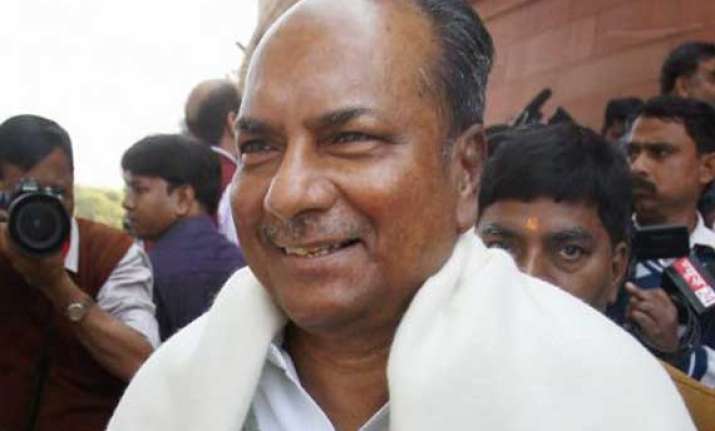 New Delhi, Aug 7: External Affairs Minister Salman Khurshid Wednesday said Defence Minister A.K. Antony's statement on the killing of five Indian soldiers by Pakistani troops was a "carefully thought out statement based on facts provided by the army" and there was no attempt to "let off Pakistan".
Khurshid said the statement made by Antony in parliament Tuesday was not contradictory and there was no scope of controversy.
"See the corrected version of the Indian Army press release and match it with what the defence minister says, it is exactly the same. I don't think the statement is contradictory," said Khurshid.
"It was a carefully thought out statement based on facts provide by the Indian army.. It is my belief the BJP (Bharatiya Janata Party (BJP) is making desperate attempts to find holes," he added.
"It is an evolving situation.. we cant be cussive and egoistic.. as and when there is more information we will review the statement," said Khurshid. He denied that Antony's statement was an attempt to "let off" Pakistan.
The BJP has demanded that Antony apologise for his statement in which he said the attack on Indian soldiers was carried out by 20 heavily-armed terrorists along with people in Pakistan army uniform.
A defence ministry statement -- which was later withdrawn -- had stated the ambush was carried out by Pakistan's Border Action Team and that the Pakistan army was involved.
Speaking to TV news channels, Khurshid said that responsibility for the attack, irrespective of its nature, had to be Pakistan's.
"No matter what the nature of the incursion was, it has to be ultimately the responsibility of Pakistan.. it has happened from Pakistani territory and therefore we have called their official and lodged a protest and said it is unacceptable."
He said the government would wait to see what Pakistan "has to say and to if there will be any accountability".
On whether the incident could cloud the possible meeting between Prime Minister Manmohan Singh and his Pakistani counterpart Nawaz Sharif in September, he said it was too early to say if the Poonch killing would impact the meeting. "A week is a long time in politics," he quipped.