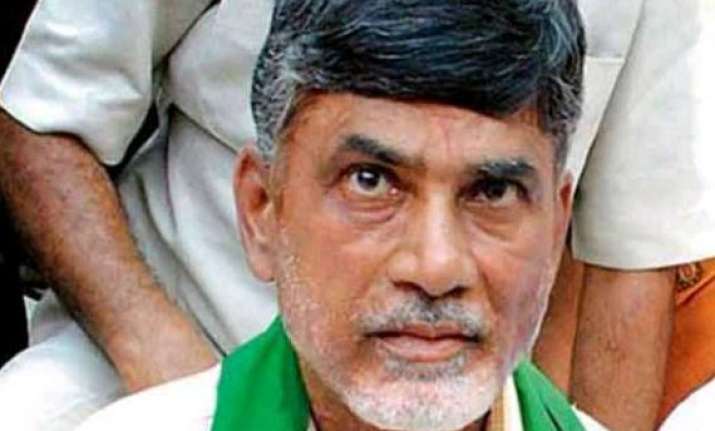 Hyderabad: Andhra Pradesh Chief Minister N Chandrababu Naidu on Wednesday said that he was ready for an open discussion about the prevailing power crisis in the new Telangana state even as he criticised the Telangana Rashtra Samiti (TRS) government for creating a controversy over every issue.
"Telangana state is unable to handle its power woes. It cannot blame Andhra Pradesh for its inability. Andhra Pradesh has made long-term agreements to reduce power deficit. Telangana has power problems. AP has agreed to give 300 MW of power to Telangana state," Chandrababu Naidu told a press conference, even as he took strong exception to the TRS leaders' bid to target him over the issue. He said that farmers in Telangana suffer due to the power crisis.
Hence, Andhra Pradesh has agreed to give 300 MW of electricity to Telangana to bail out farmers from power woes. "The ruling party in Telangana has not been able to prove its mettle in development. So, it has been making baseless allegations. It is not the right way forward. My government has shown accountability. We are ready to co-operate with the Telangana government if it comes forward," the AP Chief Minister said.
Naidu said his government would like to resolve all issues with Telangana "peacefully" with mutual co-operation. Referring to the Telangana government's refusal to stop power generation in the Srisailam Left Power House (LPH), as water in the reservoir fell to the minimum storage level of 857.6 feet, the AP Chief Minister said the LPH could be operationalised only when surplus water is available in the river.
"Though the relevant government orders specified that 6 tmc ft of water could be drawn for power generation in the Srisailam Right Power House, our government stopped generation on October 18 because the minimum storage available is hardly sufficient to meet the balance drinking water and irrigation requirements from the reservoir," Naidu said.
The Andhra Pradesh CM also referred to the Krishna River Management Board Secretary's letter to the Telangana government on October 21 asking the latter to comply with stipulated rules and ensure that water released from Srisailam did not deplete below the threshold level needed for drinking water and irrigation requirements.
"They are violating rules and blaming me for the power crisis in Telangana. It is unwarranted. I am ready for an open discussion on this issue," Naidu said.