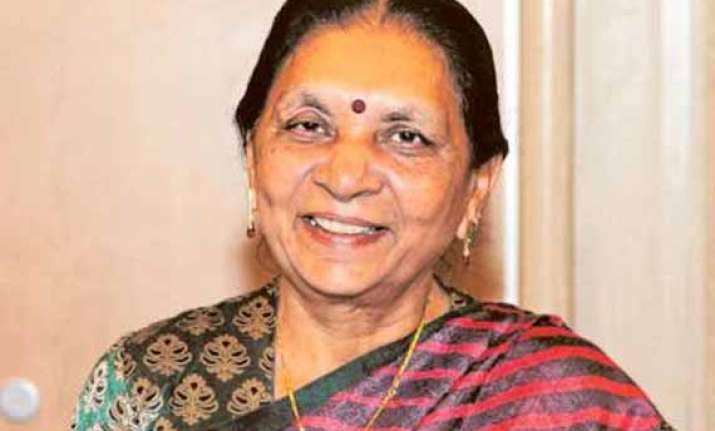 Gandhinagar:  Anandiben Patel, a close Narendra Modi associate, was today sworn-in as first woman Chief Minister of Gujarat.
73-year-old Patel, who was Revenue, Urban Development and Disaster Management Minister in the Modi Cabinet, was administered oath of office and secrecy by Governor Kamla Beniwal.
Along with Patel, six ministers of Cabinet rank and 14 Ministers of State were also sworn-in at a ceremony attended by a galaxy of top BJP leaders including Prime Minister-elect Modi, BJP president Rajnath Singh, party patriarch L K Advani, Murli Manohar Joshi, Sushma Swaraj, Venkaiah Naidu,
Nitin Gadkari
and Subramanian Swamy.
Punjab Chief Minister Prakash Singh Badal of Shiromani Akali Dal, an NDA ally, and BJP Chief Ministers Shivraj Singh Chouhan (Madhya Pradesh), Vasundhara Raje Scindia (Rajasthan) and Raman Singh (Chhattisgarh) were also present.  
The six Cabinet Ministers who were sworn-in are Nitin Patel, Raman Vora, Bhupendrasinh Chudasama, Saurabh Patel, Ganpat Vasava and Babu Bokharia.
Dilip Thakor, Vasuben Trivedi, Pradipsinh Jadeja, Chatrasinh Mori, Jaydrathsinh Parmar, Rajnikant Patel, Govind Patel, Nanu Vanani, Jayanti Kavadia, Jayesh Radadia were sworn in as Ministers of State. Four new faces inducted as MoS are-Shankar Chaudhary, Tarachand Cheda, Bachubhai Khabad and Kanti Gamit.
Three MoS in the Modi government including Purshottam Solanki, who has charges of corruption against him, Parbat Patel and Vasan Ahir were dropped.
Portfolios of the ministers are likely to be announced later in the day.