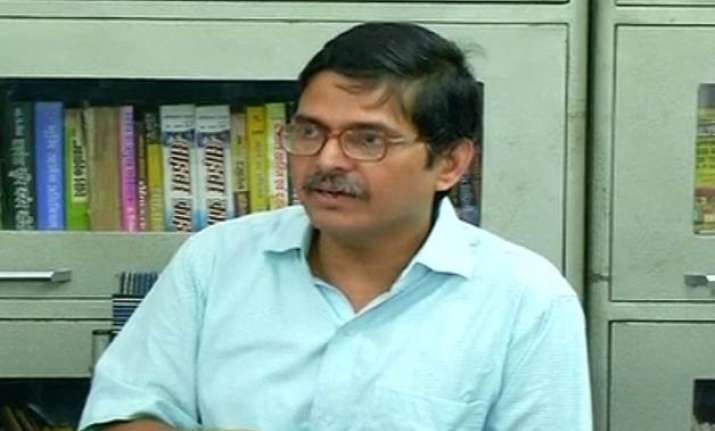 New Delhi: Senior IPS officer Amitabh Thakur today sought a CBI probe into the rape case filed against him in Lucknow.
The rape charges were filed against Thakur hours after he had lodged a complaint against Samajwadi Party chief Mulayam Singh Yadav for allegedly threatening him.
Amitabh Thakur also sought adequate security cover for his family citing threat to their lives.   After the meeting, Thakur told media persons that the officials have assured him a quick examination of the request.
Thakur clarified that at the time of the alleged rape, he was with his wife and two children at home.
Also Read: IPS Amitabh Thakur says rape case 'return gift' from Mulayam, seeks CBI probe
The IPS officer had earlier said that he would approach the MHA against  Yadav for conspiring against him as the rape charges came  only after he alleged that Mulayam had threatened him.
The IPS officer had on Saturday lodged a police complaint accusing SP supremo of threatening him over telephone to mend his ways or face dire consequences.
Thakur's wife  social activist wife, Nutan Thakur, sent an e-mail to media persons with a voice recording attached to it . In the recording, a man -- alleged to be Mulayam Singh -- asks Thakur not to be a 'loose cannon' and say anything about anybody.
Hours later, an FIR was filed against Thakur for the alleged rape of a Ghaziabad-based woman.
My only fault was that I made public the audio recording of the threat I had received from Mulayam, and also 'dared' to submit a complaint in this regard at a police station," Amitabh Thakur said at a press conference which he addressed along with his wife Nutan.
Terming the FIR a "return gift" from the former chief minister, Thakur said, "it is what you get when you take on the high and the mighty."