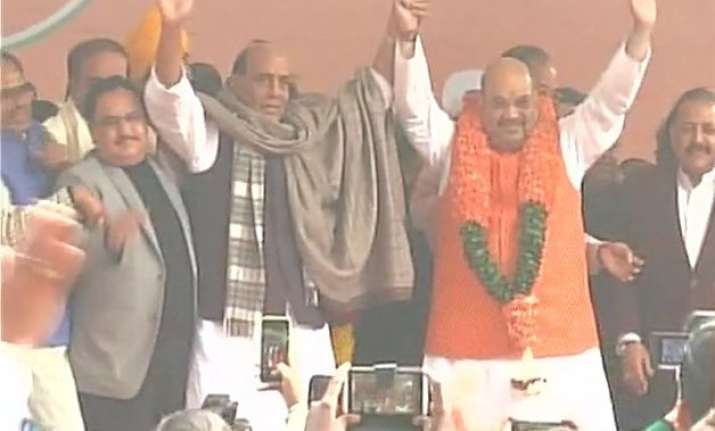 New Delhi: BJP chief Amit Shah was today re-elected as the party president after top party leaders led by Prime Minister Narendra Modi proposed his name for the party president's post.
The announcement of Shah's unopposed election for the top party post was made at the BJP headquarter in Delhi.
"Party today unanimously elected Amit Shah ji for the second term as BJP president," Union Minister Venkaiah Naidu said.
Among others who have proposed Shah's name are Rajnath Singh, Anant Kumar and JP Nadda, M Venkaiah Naidu, besides BJP CMs Vasundhara Raje, Raghubar Das, Shivraj Singh Chauhan and others.
Shah's current tenure ended yesterday and the new term will be his first full-term lasting three years. Currently, he was completing the remaining tenure of Home Minister Rajnath Singh, who had demitted the post after joining the Union Cabinet in May 2014.
Under Shah's leadership, BJP scaled new heights by coming to power in Maharashtra, Haryana, Jharkhand and Jammu and Kashmir. However, party had to face defeats in Delhi and Bihar Assembly elections, triggering some rumblings in the BJP.
The BJP president's election, which should have been completed by December 2015, was delayed as the party was waiting for elections to the state units to be completed. Party rules warrant elections to at least 50% of the state units to be over before election of the party chief takes place.
Home Minister Rajnath Singh on Sunday congratulated BJP president Amit Shah on his re-election and said he was sure the party will reach "newer heights of success" under him.
"Heartiest congratulations to Amit Shah on his re-election as the BJP national president," he said.
"He has been an extremely successful party president. I am confident that the BJP will continue its forward march under Amit Shah's stewardship and reach to newer heights of success and glory," he added.
PM Modi congratulates Amit Shah
Prime Minister Narendra Modi today congratulated Amit Shah on his re-election as BJP president and voiced confidence that the party will scale newer heights under his leadership.
"Congratulations to Shri @AmitShah on being elected BJP president. I am confident the Party will scale newer heights under his leadership," Modi tweeted after Shah was elected party chief unupposed for his first full 3-year term at the helm.
"Amit Bhai combines grassroot-level work & rich organisational experience which will benefit the Party immensely," Modi said in another post on the microblogging website.