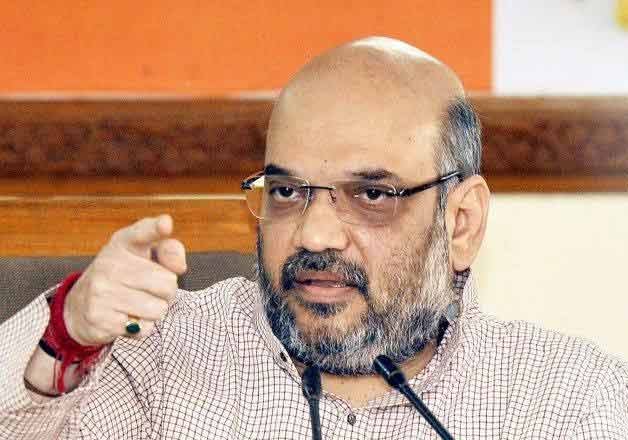 New Delhi: BJP president Amit Shah today slammed Congress for blatantly supporting the arrested JNU students who have allegedly shouted anti-India slogans during an event organised for parliament attack convict Afzal Guru.
Launching a scathing attack on Congress vice president Rahul Gandhi, Shah wrote in his blog that the Congress Vice President is unable to see what is good and bad for the country.
Speaking on the raging controversy for the first time, Shah asked Congress president Sonia Gandhi and Rahul a host of questions and demanded that he apologise for his stand on the JNU issue, saying support to anti-national forces in the name of the Left's progressive ideology is not acceptable.
"Are you not encouraging traitors by protesting in support of these anti-nationals?", Shah wrote in a blog. Noting that slogans like 'Pakistan zindabad', 'go India go back' and those in support of Parliament attack convict Afzal Guru, Kashmir's independence and India's destruction were raised in JNU," he wondered if the Congress leader had joined hands with separatists.
"Does he want another division of India by giving a free run to separatists in the name of freedom of expression? The kind of statements the Congress vice president and other leaders of his party have made in JNU have proved again that national interest has no place in their mind," Shah said.
The BJP president's tough stand indicates that the party is willing to slug it out with Congress and other opposition parties over an issue it believes will help reaffirm its nationalist credentials and put the opposition in a corner.
Shah said no anti-national activities would be allowed in the country. "No citizen can accept that a terrorist is favoured and anti-India slogans raised at a prestigious university of the country," Shah said in a blog.
"But the kind of statements that Rahul Gandhi and his party colleagues have delivered at the campus proves that there is no place for national interest in their thinking," he said.
JNU has been on the boil over the arrest of its students' union president Kanhaiya Kumar on sedition charges after some students organised a meet to mark the anniversaries of executions of Parliament attack convict Afzal Guru and Jammu Kashmir Liberation Front co-founder Maqbool Bhat. Anti-India slogans were raised at the gathering.