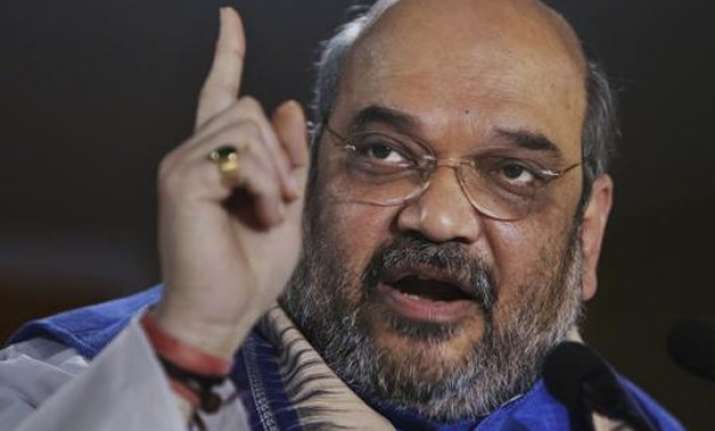 New Delhi: Bharatiya Janata Party (BJP) president Amit Shah is all set to start a new term from today as he is tipped to be elected unopposed for the top party post.
The nomination for the party national president will take place between 10 am to 1 pm and the scrutiny will be done later in the day.
Shah's current tenure ended yesterday and the new term will be his first full-term lasting three years. Currently, he was completing the remaining tenure of Home Minister Rajnath Singh, who had demitted the post after joining the Union Cabinet in May 2014.
Party sources said that Shah's election is virtually a formality. Almost all BJP Chief Ministers, besides a number of Union Ministers, are likely to be in attendance today when Shah files his nomination papers and is expected to be declared as the party chief unopposed.
Under Shah's leadership, BJP scaled new heights by coming to power in Maharashtra, Haryana, Jharkhand and Jammu and Kashmir. However, party had to face defeats in Delhi and Bihar Assembly elections, triggering some rumblings in the BJP.
The BJP president's election, which should have been completed by December 2015, was delayed as the party was waiting for elections to the state units to be completed. Party rules warrant elections to at least 50% of the state units to be over before election of the party chief takes place.
Party sources have insisted that his 'energetic and focused' leadership has strengthened the organisation by pushing its membership across the country and expanding its reach in Assam, Kerala and West Bengal where BJP had never been a force to reckon with.
The party president's election in BJP is normally unopposed. Last time, senior party leader Yashwant Sinha had expressed his willingness to contest but later decided against it.
Modi hosts dinner for Team Amit Shah
Prime Minister Narendra Modi yesterday night met Shah and his team of office-bearers over dinner at his official residence.
The meeting between two top leaders is significant as under the new Modi-Shah regime the BJP-led NDA government has been functioning in coordination with the party to ensure that the government's policies reach people through its cadres.