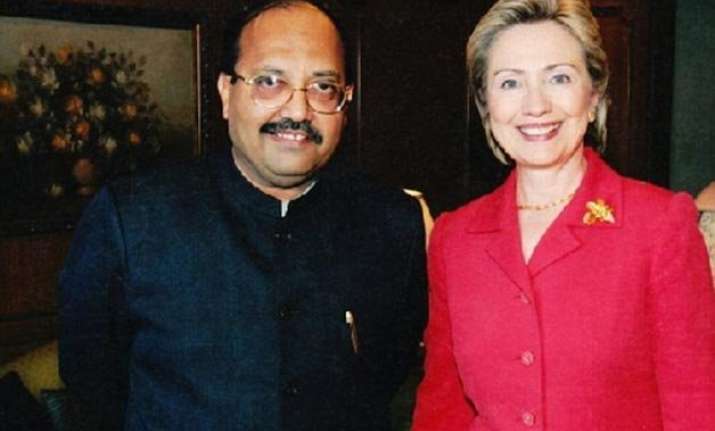 New Delhi: Former Samajwadi Party leader Amar Singh has denied of making a donation to non-profit foundation established by ex-US President Bill Clinton, Clinton Foundation.
New York Post had on April 28 reported that Amar Singh is among the list of donors of Clinton Foundation against whom two donations of $1 million and $5million are listed.
According to former Rajya Sabha MP's election affidavit, this is his entire net worth. "That is not my donation, I have not given that money to the The Clinton Foundation," he said, adding that "If any friend has done that on my behalf I am grateful to them, but its not mine."
"By the grace of God, my corporate rivals have left no stone unturned to put me into legal trouble. I have been investigated by the Economic Offences Wing (EOW) under the hostile Mayawati regime, by a court monitored Enforcement Directorate probe, and have come out clean," he further said.
Singh, who is considered close to Bill Clinton, did not deny his proximity to the leader. He had in past also attended a few dinners in former US President's honour.
The donation in Amar Singh's name was said to have been made in 2008, around the same time when the US Congress was debating the Indo-US civil nuclear cooperation deal. The then New York Senator and 2016 Presidential candidate Hillary Clinton had voted in favour of the deal.
The Clinton Foundation's finances have come under heavy scrutiny after Hillary Clinton's announcement that she would be running for US presidency. A book written by a conservative author has alleged that the foundation accepted money from Russian donors too.