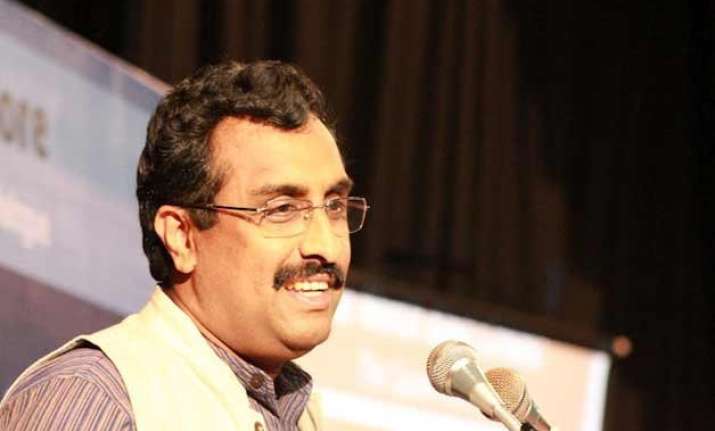 Bengaluru: Seeking to allay concerns in the party over alliance with PDP in Jammu and Kashmir, BJP's national executive today dwelt at length on the issue, underscoring that "conventional positions" would not have met the developmental aspirations of the people of the state.
A special briefing on its partnership with Mufti Mohammad Sayeed-led party, for which BJP put several key issues including Article 370 on the backburner, was made by the party's General Secretary Ram Madhav during the concluding day of the meeting and the decision received "complete endorsement" of the national executive, senior party leader and Finance Minister Arun Jaitley said.
There has been a sense of unease in the BJP over the alliance, more so after Chief Mufti Mohammad Sayeed credited Hurriyat, militants and Pakistan for smooth polls in the state and hardcore separatist Masrat Alam was released from jail, inviting strong reaction from the saffron party and the Modi government.
"It is the nature of the mandate which decided the possible course of the coalition. Secondly, there is a popular feeling within the state also that the governance deficit must go and developmental politics must come.
"And, thirdly, behind the national agenda of developmental politics it is extremely important that more and more political parties come and endorse the developmental politics which the rest of the country wants in Jammu and Kashmir.
"You need peace, you need developmental politics and therefore conventional positions would not have achieved that," Jaitley said during his briefing after the meeting ended.
Union minister Nirmala Sitharaman said the explanation by Madhav, who was the party's pointsman in stitching up the alliance with PDP, was received with applause from the executive members.
The session on J&K focused particularly on the Common Minimum Programme of the alliance government and the particular context in which it took place, Jaitley said.