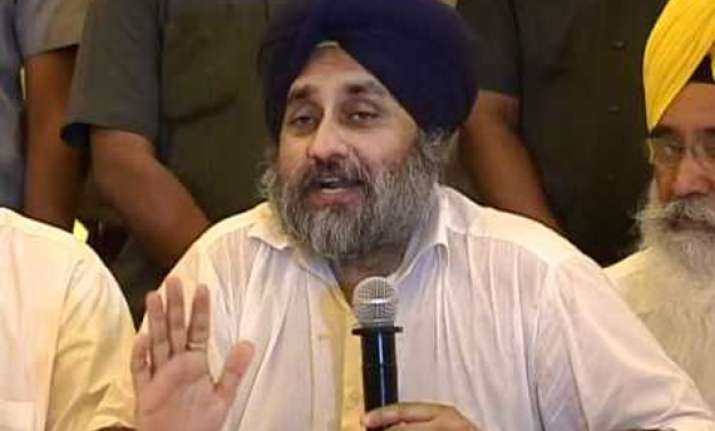 Chandigarh, Nov 10:  It may be 50 km away from Amritsar but senior leaders of the ruling Shiromani Akali Dal chose to undertake the journey to Lahore in neighbouring Pakistan for an unusual reason - to get quality time with Punjab Deputy Chief Minister Sukhbir Singh Badal.
Badal, who was on a four-day visit to Lahore this week, saw his delegation strength swelling by the day. Given the fact that he is the most powerful man in the Punjab establishment these days, his delegation too grew to almost 50 people.
They included five cabinet ministers - one-third of the total strength (15 members) of the cabinet headed by Chief Minister Parkash Singh Badal, father of Sukhbir Badal, five chief parliamentary secretaries (CPS, one step below a minister), one MP and two legislators.
The ministers were Sukhbir Badal's brother-in-law and Revenue Minister Bikram Singh Majithia, Jails Minister Swarn Singh Phillaur, Education Minister Sikander Singh Maluka, Industries Minister Anil Joshi and PWD Minister Sharanjit Singh Dhillon. The CPSs were Sarup Chand Singla, Virsa Singh Valtoha, Inderbir Singh Bolaria, Som Parkash and Harmeet Singh Sandhu, all of whom are Akali Dal legislators.
Ajnala MP Ratan Singh Ajnala and legislators Pargat Singh (former India hockey captain and Olympian) and Deep Malhotra (liquor baron and businessman) were also part of the delegation.
"We don't understand what so many cabinet ministers were doing on the trip. There were no bilateral tie-ups being done in the fields of revenue, education, jails or PWD," wondered a senior legislator of the opposition Congress.
"It seems that these people, including the CPSs, who don't get to see Sukhbir much in Chandigarh and Punjab since he is not that accessible to them here, must have thought that they will get quality time with him for four days during the Lahore trip. That is the only reason for them to be going to Lahore. This is wasteful burden on the debt-ridden government," the legislator said.
A number of officers also became part of the delegation.
"The delegation was initially supposed to be of people from the trade, industry and sports sectors. Later, other names were also added," a member of the trade delegation told IANS on condition of anonymity.
In Lahore, Sukhbir, who was accompanied by prominent industrialists, traders, exporters and others in his delegation, talked about the potential of increasing trade through the Attari-Wagah land route and improving sporting ties between east Punjab (in India) and west Punjab (in Pakistan).
Besides trade-related meetings with the Punjab government there and trade and industry leaders in Pakistan, Sukhbir also attended sporting events.
Sukhbir got a big welcome right from the moment he crossed the border at Attari to step into Pakistan. Pakistan Punjab assembly speaker Rana Iqbal came to receive him and the delegation at the Wagah border. Sukhbir was flown to Lahore in a government helicopter from Wagah to Lahore, 20 km away.
While Sukhbir was visiting Pakistan, Canadian Prime Minister Stephen Harper visited Punjab and Chandigarh Wednesday. The chief minister hosted the Canadian prime minister.