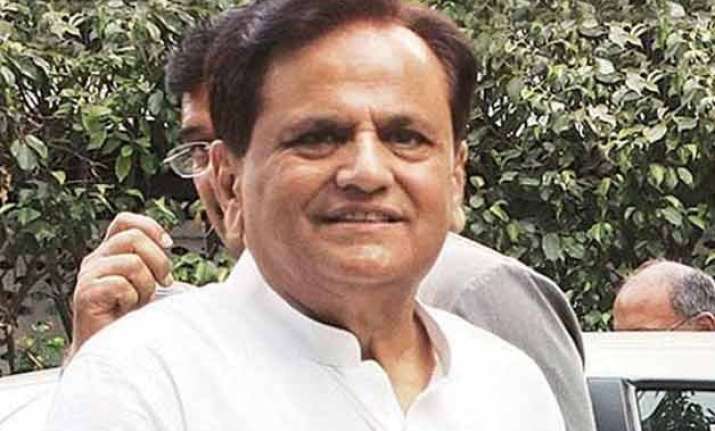 Ahmedabad:   Congress President Sonia Gandhi's political secretary Ahmed Patel today labelled the Prime Minister Narendra Modi-led central government as a "hologram government" for failing on all fronts after coming to power almost a year ago.
Patel cited Modi's recent visit to Germany, where Patel claimed that Modi had a high-level meeting with businessmen to lure them to invest in India, showing them a graphic representation of a 'Make In India' logo, a lion made of industrial parts.
"That logo was projected as a three dimensional (3D) holographic animation. You can only see that logo. You cannot touch it or feel it. Similarly, this central government is also a hologram government, which can neither be touched nor
felt.
It is also hollow from inside, but wrapped in a nice packaging," Patel said during Gujarat's Foundation Day celebrations organised by the state unit of the Congress, held at Tagore Hall here.
Addressing Congress leaders, MLAs and party workers, Patel alleged that none of Modi's programmes have actually been realised on the ground.
"Be it 'Ganga Safai' or 'Make in India', none of his programmes have taken off the ground. There has hardly been any new investment during the last one year. On the contrary, India has experienced a decrease in job creation after our PM floated his 'Make In India' campaign," Patel claimed.
Patel urged Congress party workers to take the pro-farmer movement initiated by Sonia Gandhi and Congress Vice President Rahul Gandhi to make people aware about the government's failures. He also attacked the 'Gujarat Model', which according to him, is way beyond reality.
"Does 'Gujarat Model' include only Sabarmati Riverfront and GIFT City? What about villages, which are in bad shape here? Farmers are crying for help to get proper minimum support price for cotton but there is nobody to listen to their plight," Patel said, urging Congress workers to get their act together.
"Our leaders (Sonia and Rahul) are going to farmers to understand their problems. We party workers need to get out of our homes and follow their footsteps. Our fight is not for power, but it is for the betterment of those who were cheated by false promises," Patel said.
Interacting with reporters, Patel took a dig at Modi for his frequent foreign visits and criticised him for making his "Scam India" comment on foreign soil.
"Our PM accepts almost all invitations by foreign nations, leaving no chance for our President or Vice-President to visit these countries. Moreover, he make comments about our country as if he is addressing an election rally there. By doing so, he is actually tarnishing our country's image," Patel said.
He was accompanied by All India Congress Committee (AICC) General Secretary Madhusudan Mistry, AICC spokesperson Shaktisinh Gohil, Leader of Opposition in Gujarat Assembly Shankersinh Vaghela, Gujarat Pradesh Congress Committee President Bharatsinh Solanki and other Congress leaders.