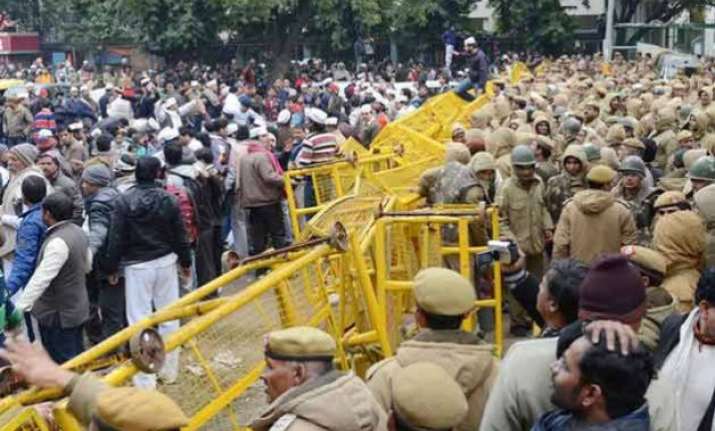 New Delhi: Aam Aadmi Party (AAP) supporters protesting against Delhi Police outside Anand Parbat police station here on Tuesday were cane-charged.
They were protesting against alleged police inaction that had led to the murder of a teenaged girl in the Anand Parbat area last week. Police resorted to the cane charge to disperse the protesters.
"The protest was getting too violent. We tried to pacify them but they not agree. We were forced to cane charge to disperse them," a police officer at Anand Parbat police station told IANS. No one was, however, detained.
"Crime against women is increasing in the city. The victim had earlier complained against the assailants, saying they stalked her. Police did not pay heed to her complaints which led to her murder," an AAP supporter said. "We want the resignation of ACP Patel Nagar and SHO Anand Parbat police station," he said.
Meanwhile, when Delhi Police Commissioner B.S. Bassi was asked on Tuesday about the police inaction as alleged by the AAP supporters, he said: "We are doing our work on the basis of merit and it shall always be on merit. I am thankful to anyone who criticises me."
Meenakshi, a Class 11 student, was repeatedly stabbed by two neighbours after she objected to their verbal abuse on Thursday (July 16).
Delhi Chief Minister Arvind Kejriwal later called on the victim's family and announced a compensation of Rs.5 lakh to her family. The Delhi government has ordered a magisterial inquiry into the case and also sought a report from Delhi Police.
Bassi met Kejriwal on Monday and during the meeting, the chief minister asked Bassi to provide details of the number of crimes against women. Kejriwal also said the performance of the police force was not up to the mark.