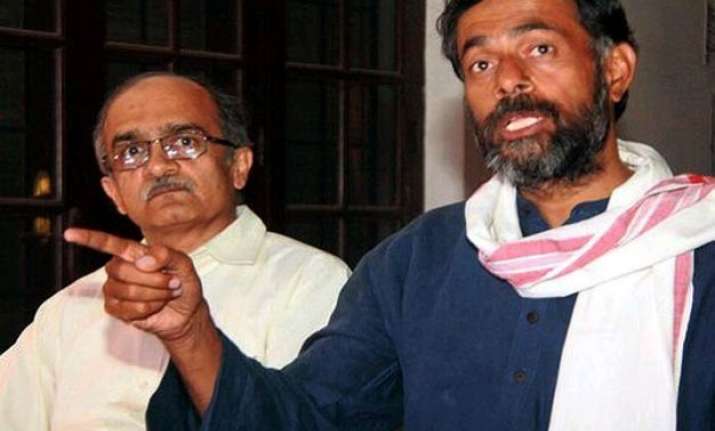 Gurgaon: Rebel Aam Aadmi Party faction led by Yogendra Yadav and Prashant Bhushan today stopped short of splitting the party by floating a new group and deciding to take a call on launching a new political outfit after six months.
After an eight-hour-long meeting of supporters from various states, a resolution was passed to set up the new group—Swaraj Abhiyan—which will try to establish the concept of "swaraj" and work for strengthening "alternative politics".
In the meeting, voting was conducted among the volunteers to decide about the future course of action in which around 69 of those present opposed leaving AAP and forming a new party.
Yadav maintained that they were still part of the party and were not keen on leaving it.
Hinting that a crackdown was imminent on rebels, AAP leader Ashutosh said the party will "soon" sit down to discuss the developments at the dissident-led convention and take an "appropriate" decision in this regard.
Only, 25.45 per cent of those who voted favoured forming a new party while a mere 1.43 per cent said they trusted the AAP leadership, according to the dissident camp. The group said it will undertake a country-wide campaign to muster support.
Yadav said a decision on forming a political party will be taken after six months following country-wide "consultations and evaluations of the movement".
In his address, Bhushan was severely critical of AAP leader and Delhi Chief Minister Arvind Kejriwal, saying he was intolerant of dissenting opinions which resulted in rift in the party.
"Those who raised questions were expelled from top party posts. Today I heard that we may be expelled for organizing this convention. The message from the top is if you raise voice against the party you will be expelled," he said at the convention, 'Swaraj Samwad'.
The bitter infighting in AAP that had come to fore after the Assembly polls saw expulsion of founding member Bhushan and party ideologue Yadav from its top decision-making bodies.
A number of AAP functionaries including party's Patiala MP Dharamvira Gandhi and prominent individuals including Medha Patkar, Aruna Roy and Admiral L Ramdas, who had expressed solidarity with the rebel group, stayed away from the meet.
Yadav in his speech said that "attendance" at the meet was indicative of the fact that problems with the party were not only of one or two people.
"Principled workers of the party do not agree on happenings in the AAP...the biggest challenge is to prevent hope from being broken," he said.