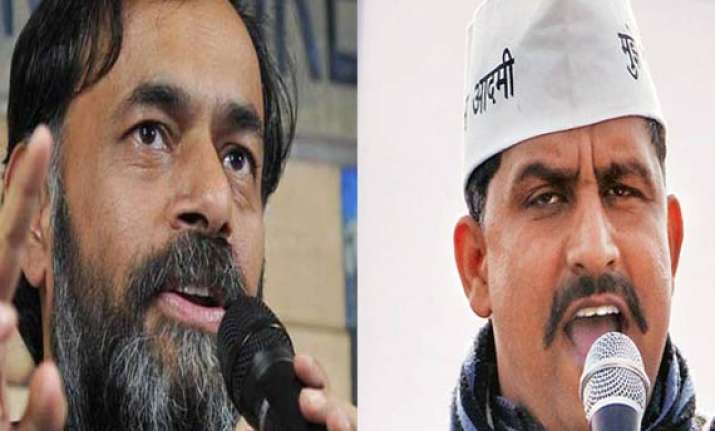 New Delhi: Bickering within the Aam Aadmi Party today came to the fore following reports that the party will not contest the upcoming Haryana assembly elections.
Naveen Jaihind, a member of the National Executive, who has had an unsavoury relation with AAP's Haryana in-charge Yogendra Yadav, questioned the decision.
"Who is he (Yadav) to unilaterally announce the decision of not contesting the polls? We were never asked about it. A decision was taken in a meeting headed by him.
"Many volunteers want the party to contest elections. I will certainly raise the issue in National Executive Meeting," Jaihind said. The party will hold its three-day National Executive meeting at Sangrur in Punjab from July 25 to 27.
AAP's National Convenor Arvind Kejriwal has already voiced his "personal opinion" that the party should not contest polls in Haryana and Maharashtra and instead concentrate on Delhi.
Yadav has responded saying no final decision has been taken on this and Jaihind and all party functionaries were indeed invited for the meeting.
"Everyone was invited, but he did not turn up. The party is yet to take a final decision" Yadav said.
"Workers are disappointed, so am I. Delhi elections are crucial but giving up elsewhere doesn't help party prospects in Delhi. Haryana elections: no final decision about AAP participation yet. State Exec says no point in contesting if national leaders not on board," Yadav had tweeted yesterday.
Yadav and Jaihind had locked horns after party's debacle in Haryana, a state where it was expected to do well. The state unit plunged into crisis as both had tendered resignations from Political Affairs Committee (PAC) and National Executive respectively and Kejriwal had to broker peace.
"Party's National Convenor has, on several ocassions, said that due to unavailability of resources it can only concentrate on Delhi. If the Central leadership doesn't agree with it then it is not apt to contest election," Ashawant Gupta, party's state convenor said.
Meanwhile, the AAP has said that the meeting will discuss the current political scenario of the country and work on strategies to build the organisation.
"The agenda for the meeting includes discussion on the current political situation of the country, organisational planning and ways of implementing Mission Vistaar," the party said in a statement.