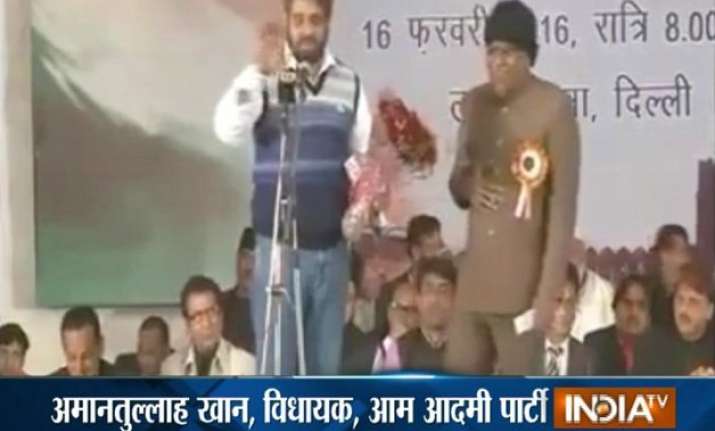 New Delhi: A latest video of Aam Aadmi Party (AAP) MLA Amanatullah Khan has surfaced where he was seen using derogatory words against the Modi government.
In the footage, the AAP MLA can be seen calling the Central government 'h*******r' for wrongfully arresting Muslim cleric Maulana Mufti Abdus Sami Qasmi for anti-national activities.
Khan also appealed the crowd to gherao the Union Home Minister Rajnath Singh's residence to tell the government that Muslims are united and will not tolerate their atrocities.
"Delhi has a huge Muslim population… if you people decide to gherao Home Minister's residence… I can assure you that the government does not have that courage to touch your children," Khan said in the video, dating back to February 16.
He also claimed that police have no proof against Mufti Sami. "I was told by police that he is involved in influencing youths to join anti-national forces. An atmosphere of terror is being created," Khan said.
Inciting the crowd to fight against it, he said, "I will very soon ask you to come and protest for the release of Sami and you have to come."
Later, speaking to media he confessed using derogatory remark against the NDA government saying, "I asked the gathering to demonstrate against the injustice done to Sami. It is our constitutional right. Whoever speaks out against the Modi government becomes an anti-national. But it is our right to do so and also to hold peaceful demonstrations."
Last month, NIA along with the Uttar Pradesh ATS had arrested a Delhi-based Islamic scholar Mufti Abdus Sami Qasmi known for his fiery speeches. He was arrested in connection with the NIA's 'open FIR' against terror group Islamic State.