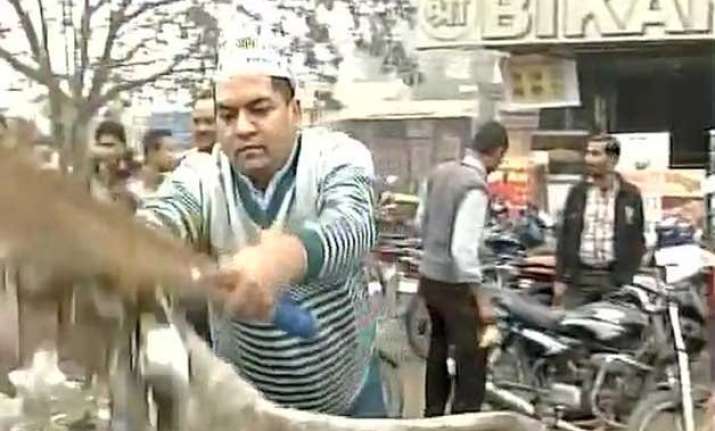 New Delhi: Lawmakers and volunteers of Aam Aadmi Party took to streets to clean up the growing pile of garbage in the capital as MCD worker's strike over non payment of salaries enter its fifth day on Sunday.
Earlier, the Public Works Department, which comes under the Delhi Government, set up a task force to clean up the piling garbage across the city.
PWD minister Satyendra Jain deployed around 100 trucks with ten workers each to clean up the city.
Meanwhile Delhi CM Arvind Kejriwal extended his support to the agitating MCD workers,saying he hoped that "some solution" will emerge after the High Court hears the matter next week.
"I support demand of protesting MCD employees that they shud get their full salaries. I hope some solution will emerge after Tue HC hearing," Kejriwal, currently in Bangalore for naturopathy treatment, said on Twitter.
Delhi Assembly Speaker Ram Niwas Goel will lead a team in Shahdara while Deputy Chief Minister Manish Sisodia will get to work in Patparpanj.
Meanwhile, AAP ministers Kapil Mishra and Imran Hussain will be seen in action at Karawal Nagar and Ballimaran respectively.
Delhi PWD Minister Satyendra Jain on Sunday called a meeting of North and East MCD Commissioners to discuss the ongoing crisis of MCD workers' strike in the national capital.
The meeting, scheduled to take place at his residence in New Delhi at 9:30 am today, will discuss the municipal workers' strike that entered the fifty day on Sunday with garbage piling up in the city.
On Saturday, doctors from six hospitals and several dispensaries run by the north and the east municipal corporations on Saturday joined the municipal employees' strike under a united front.
The strike was launched by sanitation workers on January 27, demanding timely salaries and payment of arrears.