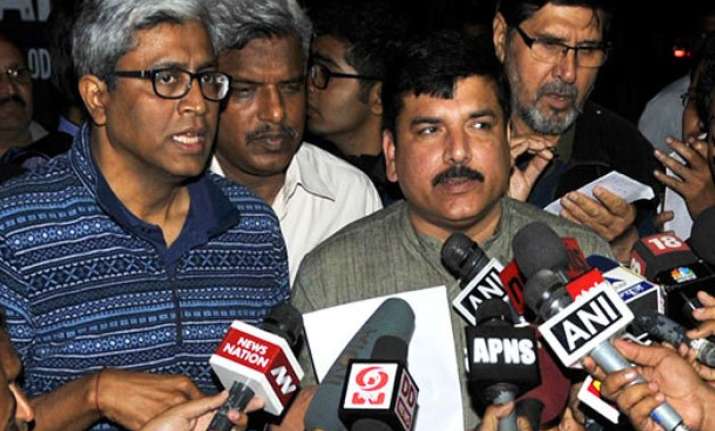 New Delhi: Almost a month after Aam Aadmi Party established its government in the National Capital; it announced that it will go national.
This was in striking contrast to what the party convener and Delhi Chief Minister Arvind Kejriwal said last week while undergoing naturopathy treatment in Bengaluru. Reportedly, he told a gathering that he wants to provide a good government in Delhi and if Delhi would change so would the country.
He said, "I fight a lot in my party when people say 'we have won Delhi so we can win elsewhere too'. I am not Napoleon who has entered (the arena) to win. I want to change the system."
The statement is also averse to what Kejriwal had said after getting a second chance to form a government in Delhi that this time, he was here to stay. He said, "I have decided that for the next five years, we (AAP) will focus on Delhi. I will serve Delhi with all my heart."
Reportedly, the CM returned to Delhi on Monday night after finishing his treatment in Bengaluru. On Tuesday, he had a meeting with the two warring factions of the party where on one hand was the Yogendra Yadav and Prashant Bhushan camp while on the other side were those who favored Arvind Kejriwal.
Signs of reconciliation were seen between the two sides as the party's political affairs committee met at his home in Ghaziabad.
Senior party leader Sanjay Singh told the media, "After our spectacular victory in Delhi and seeing the love of the people, we have decided to expand at the national level."
AAP is now expected to take the decision on contesting elections outside Delhi, a key demand of rebel leader Yogendra Yadav that split the party and pitted him and senior colleague Prashant Bhushan against the Arvind Kejriwal camp.
In the last few days, in absence of Arvind Kejriwal, party saw a lot of mud-slinging and internal disturbance ultimately leading to ouster of Yogendra Yadav and Prashant Bhushan from PAC for being against the party during elections and challenging Kejriwal's leadership.
Kejriwal expressed unhappiness over the personal scores settled by the party members through media.
Kejriwal had asked Ashutosh, Kumar Vishwas, Singh and Ashish Khetan to reach out to Yadav and Bhushan, sources said. Their meeting with Yadav started a little before midnight and went on till 2.30am. Both sides said the meeting was positive and they would talk again.
Singh told the media that the crisis in the party would end soon.