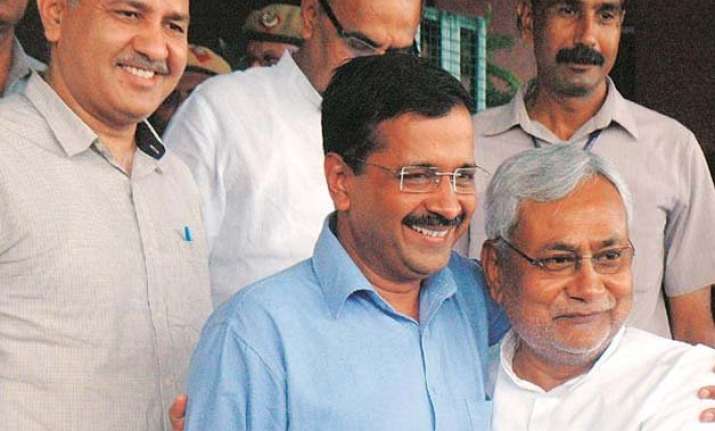 New Delhi: As Bihar heads for a fierce political battle, AAP is finding itself in a dilemma on how to return "favour" to Nitish Kumar considering JD(U)'s tie-up with fodder-scam convict Lalu Prasad and Congress as it fears any open support to the alliance will dent its anti-graft image.
The JD(U) had supported AAP during the Delhi Assembly polls and also during AAP Chief Arvind Kejriwal's Varanasi fight against Narendra Modi in the Lok Sabha polls.
Both Kejriwal and Kumar share a personal rapport and the AAP chief was determined to help his Bihar counterpart for the crucial election which is being considered a major test of Modi Government's popularity since it came to power in May last year.
The JD(U) is also keen that Kejriwal's party extends support to it in the poll battle.
Sources said AAP is not going to field any candidate in Bihar polls though a section in the party was in favour of putting up candidates in certain seats.
They said the party cannot extend direct support to the secular alliance led by Kumar due to presence of RJD's Yadav, a convict in the fodder scam, and Congress against whom AAP fought the Delhi polls.
The party leaders feel extending support to the alliance will dent its anti-corruption image. A senior leader indicated that AAP may campaign against the BJP without supporting any party so that the secular alliance benefits from it.
Asked whether he will campaign for the JD-U, Delhi Chief Minister Kejriwal did not give a specific reply. "Let's see what happens."
The assessment in AAP was that Kejriwal government's confrontation with the BJP-ruled Centre has improved its popularity across the country as a message has gone that the Modi dispensation was creating hurdles for it in providing effective governance.
"A clear message has gone that Prime Minister Narendra Modi was obstructing the AAP government in delivering on its promises. The BJP will have to decide how long it can sustain such an approach," said a senior AAP leader, claiming the ruling party at the Centre will suffer badly in Bihar polls.