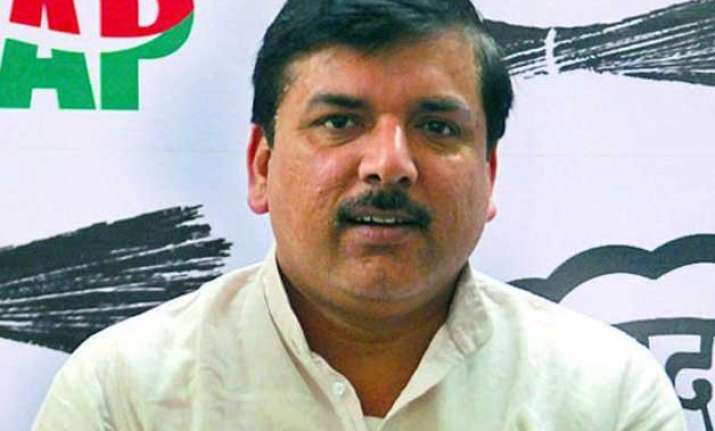 New Delhi: Aam Aadmi Party spokesperson Sanjay Singh defended the party's stand on the ongoing horse trading scandal and has said that no money was offered to anyone. At the same time, Singh put the blame on the BJP saying that it was actually the BJP which indulged in horse trading and not AAP.
On Wednesday, an audio clip of conversation between AAP chief Arvind Kejriwal and ex-MLA Rajesh Garg broke out in which Kejriwal seems to be asking Garg to break Congress to support him in forming the government in Delhi. In the audio recording, that came into open on Wednesday and was first run by India TV, Kejriwal was seen asking Garg to get six Congress MLAs to support the AAP. The conversation probably took place before the dissolution of the Delhi Assembly.
The authenticity of the clip is yet to be established but the party has not called it fake and defended that it does not suggest horse trading as money is never mentioned in the clip.
On Thursday, party leader Sanjay Singh admitted meeting ex Congress MLA Asif Mohammed Khan. But Sanjay Singh alleged that Khan told him about meeting with Union Minister Nitin Gadkari. BJP apparently had offered ministerial berths if Congress MLA's had jumped ship.
Asif Mohammad Khan, former Congress MLA who was defeated by AAP's Amanatullah Khan in recent elections, said on Wednesday that late in 2014 he had many meetings with Manish Sisodia and Sanjay Singh who asked him to get their word to the Congress high command. However, Khan said that party high command was clear that they would not have any ties with AAP.
Sanjay Singh, while talking to ANI said "Even if it is assumed that the tape is authentic, where does it suggest horse-trading? Where in the tape did Arvind offer money?"