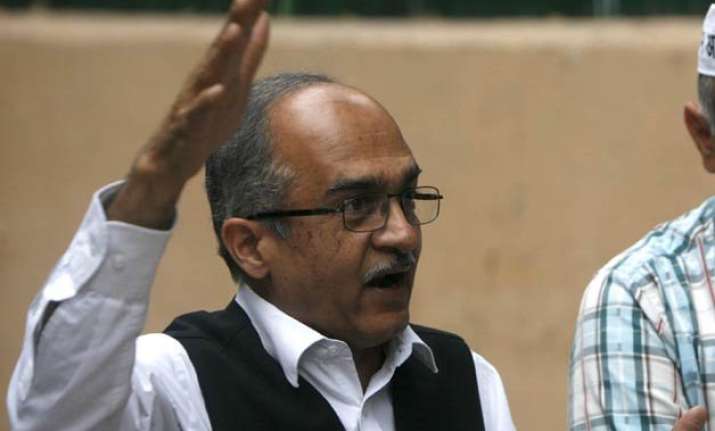 New Delhi: Senior Aam Aadmi Party (AAP) leaders Prashant Bhushan and Yogendra Yadav today reacted cautiously to the statements issued by top party leaders.
Bhushan said that the whole truth about the matter will come out in front of the nation soon.
"Time has come for the country to know the whole truth about the matter and the truth will come out soon," Bhushan said.
"It is good that those things which were being said through other people are now being openly made by some front line leaders of the party," Bhushan added.
ALSO READ: Yogendra Yadav planted stories against Kejriwal during Delhi polls: AAP
Bhushan, who was removed from the party's top decision making body political affairs committee (PAC) last week, further said that his fight for 'swaraj' will continue.
"AAP was founded on high principles of transparency, accountability, inner party democracy and 'swaraj', and I will continue to fight for it," he added.
On the other hand, Yadav welcomed the move by the party to issue an official statement by top party leaders since the infighting came out in the open.
"I welcome the statement by four colleagues. Begins the possibility of open, transparent dialogue. Truth shall prevail," Yadav said in a twitter post.
He also stated that the media statement will end all the confusion and events of mudslinging within the party.
"Hope this statement ends all slander, planting of allegations. Hope no more coercion of party functionaries and Delhi MLAs on this issue. Hope Prashant Bhushan and my response will also be duly publicised by the party media. Hope party's website will be opened for all volunteers' responses," Yodav wrote on twitter.
In a first official statement by top party leaders since the infighting came out in the open, Deputy Chief Minister Manish Sisodia, Transport Minister Gopal Rai, party's general secretary Pankaj Gupta and Sanjay Singh defended the national executive's decision to axe Prashant and Yadav from the PAC.