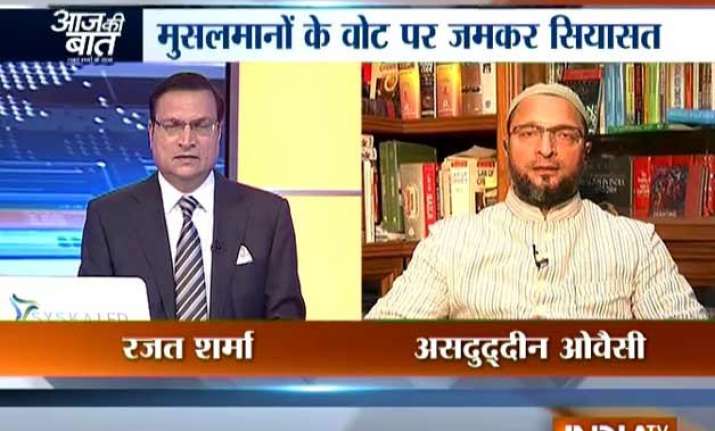 New Delhi: Asaduddin Owaisi, the leader of All India Majlis-e-Ittehadul Muslimeen, today hit out at Shiv Sena for an article published in its mouthpiece Saamna in which party MP Sanjay Raut has asked to revoke voting rights of Muslims in India.
He said the Maharashtra government should take suo-moto action against Raut as his comments violate Indian constitution.
While talking to Rajat Sharma exclusively on India TV in Aaj Ki Baat, Owaisi said, "If Maharashtra government wants to fulfill its constitutional duty, they are duty-bound to take action against Raut. If someone is saying that he doesn't believe in Indian constitution and if I do not have voting rights that means I am not Indian citizen."
In his interview, Owaisi said that this kind of politics was to happen sooner or later. He added, "I am not surprised that these parties of Hindutva ideology are talking like this. The more they say things like this, the more their true face will be revealed before the public. They just want to make India a Hindu nation and spread hatred."
Sanjay Raut had said that the leaders like Owaisi take advantage of Muslims by using them as a vote bank.
To this, Owaisi replied, "During Maharashtra assembly elections I traveled all over the state, I held meetings but no case was registered against me. What is my benefit in all that?"
Asaduddin recounted findings of different committees and said that the governments have been discriminating against Muslims for very long. On Raut's accusation that people like Owaisi do not do any good for Muslims, Owaisi said if they are serious about well being of Muslims, they should introduce Muslim reservations.
"They should write articles about Lakhvi, why don't they write about agrarian crisis in Maharashtra? More than 5 lakh people lost employment because of beef ban, why don't they write about that?" Owaisi asked.